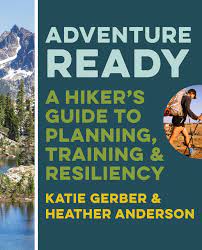 Adventure Ready: A Hiker's Guide to Planning, Training, and Resiliency, which I co-authored with thru-hiker and personal trainer Heather "Anish" Anderson, is a how-to guide for long distance backpacking.
Adventure Ready will prepare you for your first, or your next, long hike.
It includes detailed chapters on planning, gear selection, physical training, trail nutrition, health resiliency, navigation, and backcountry safety.
Uniquely, it also includes chapters on mental preparation as well as how to adapt to life once you return from your hike.
Pre Orders are NOW OPEN.
By purchasing your copy of Adventure Ready through this page, you'll be first in line to get SIGNED COPY.
**If you purchase a PRE ORDER copy (before May 31, 2022), you'll also receive a DISCOUNT CODE to use on the Adventure Ready and Backpacker Academy online companion courses so that you can get started with the material immediately!**
Released in JUNE 2022