A more statistics-forward, trail-overview version of this article is published here, on the backpacking website The Trek.
"This is the most beautiful place on earth. There are many such places." Edward Abbey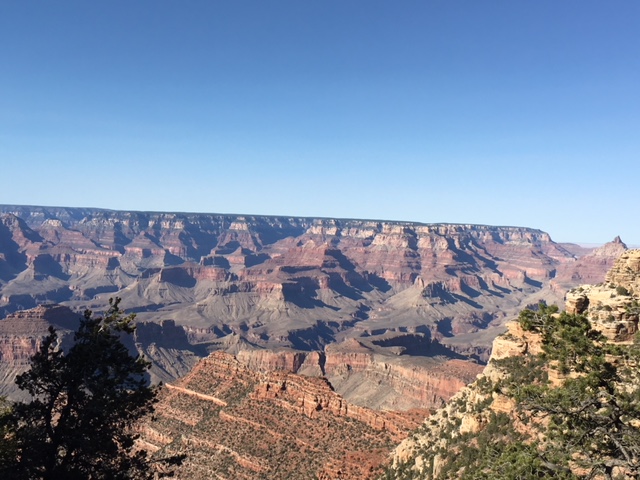 The Grand Canyon. One of the most iconic landmarks in the world and the focus of my most recent adventure.
If you're just interested in the gear I used, scroll to the bottom. If you're curious how I fueled, see this post.
Overview
Even though it's been another mild winter here on the Front Range, I'd been dreaming of the desert, dreaming of getting away for a few days. But to where? Taos? Moab? A trip to the Grand Canyon has been in the back of my mind for some time. Afterall, I'm well into adulthood and had never seen the 'big ditch' in person. Now seemed like as good a time as any.
I cleared my calendar for a weekend in early April and began brainstorming. If I was going to drive all that way, I wanted to make it an epic adventure. After a year of being somewhat on the sidelines recovering from adrenal fatigue and Hashimoto's, I think I also had something to prove to myself. Or maybe I just wanted that feeling of pushing myself to my physical and mental limits in the outdoors. That feeling that makes me feel like I'm actually living life.
I left Saturday after work and after a beautiful drive through Colorado, I took Hwy 128 into Moab. A friend told me about this 'scenic route' which takes you into Moab along the Colorado River, and I don't think I'll ever take Hwy 191 in again.
It was dark by the time I was getting close to town, so I found a spot to pull off by the river and I set up my little nest in the back of my car, too tired and lazy to set up my tarp. I already felt free, relaxed, no one to answer to and nothing on my calendar for the next few days. This is the feeling I was seeking. That night, I woke to waves of rain pelting my car, and torrential winds. I fell back asleep, calmed by the storm.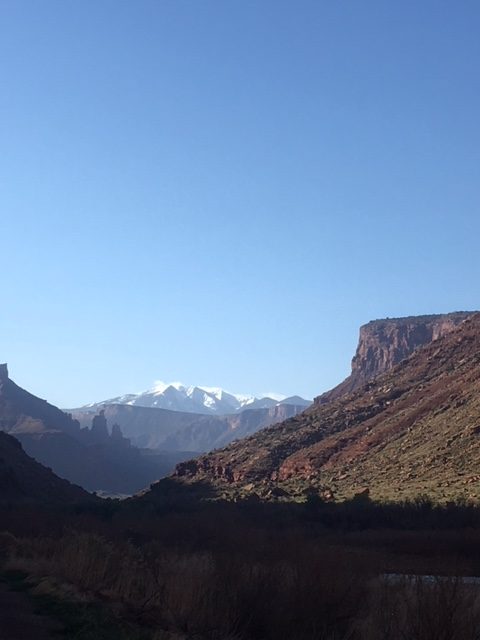 The next day, I drove the 20 miles into Moab, along the river, with the most beautiful views of red rocks and the snow-capped La Sals coming into view in the distance. I stopped by honeymoon spring just outside of Moab to fill all my bottles. Another good tip from a friend. The water was fresh and tasted wonderful. I love collecting fresh spring water when it's available.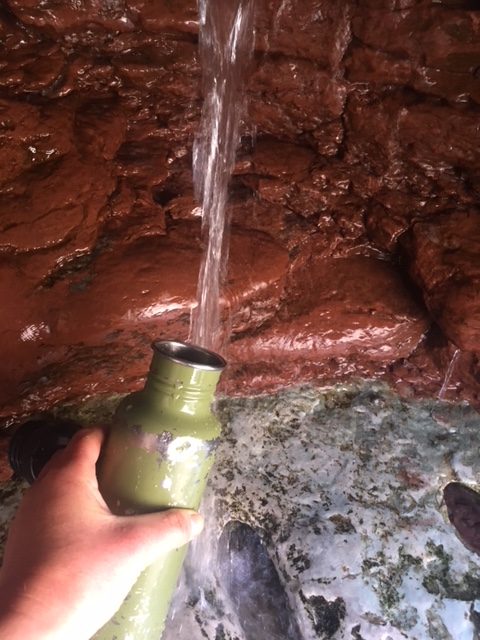 I stopped by the gear store in Moab for an emergency bivy (just in case) and made my way towards the Grand Canyon, stopping by Natural Bridges National Monument and a few other wilderness areas along the way. Appropriately, I listened to Desert Solitaire on audio book, enjoying the narrative about the very landscape through which I was driving.
Arriving at the Canyon around dusk, I stretched my legs and scoped out the area, finding the South Kaibab Trailhead, where I'd be starting my hike early the next morning. I sorted out my food, which is detailed in this post, organized my gear (detailed below), and settled in for the night.
The big day started around 5am. I walked the half mile to the trailhead under a quiet starry sky, thinking about what lay ahead. I didn't know whether I had the fitness level to accomplish my goal. I believed I could, but considering the reality that I haven't been running regularly for over 6 months and had only been hiking about once a week, I just didn't have the training to give me confidence. The previous weekend, I'd completed the Boulder Skyline Traverse as a test hike. My body felt strong on that hike, but it was only about half the mileage and half the elevation gain of what I hoped to accomplish in the Grand Canyon.
I love starting the day in the dark. Somehow, morning miles in the dark don't feel like they count in terms of using my body's energy. About an hour later after beginning the descent down South Kaibab, the sun started peeking up over the edge of the canyon walls.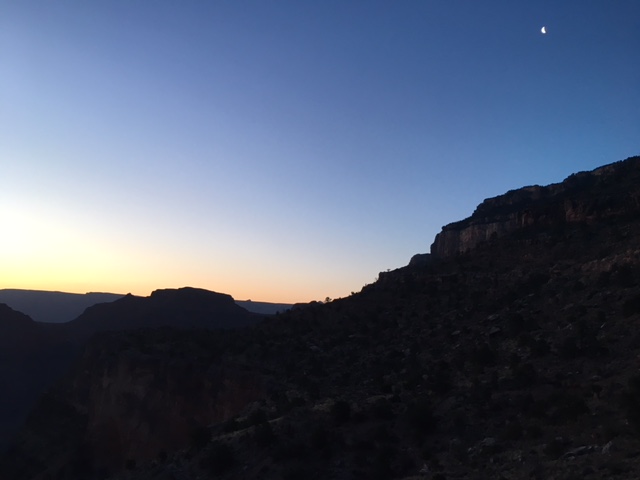 I continued down the canyon, reminding myself to Relax. My mantra for the day. The temptation to rush is always there for me. To push just a bit harder than my body naturally wants to go. I knew that today I needed to go just the right speed. All excess energy must be spent moving forward, not tightening my shoulders under my pack, not trying to go just a little faster than comfortable, not even on thinking unnecessary thoughts. Relax. Stay in the flow. Enjoy each moment of this day. A day to just walk.
Two hours later, I was at the Colorado River. I stopped at Phantom Ranch to top off my water and grab a snack. I'd arrived after the Backcountry Information Center was closed the previous day and I didn't know what other water in the canyon was turned on. Of course, I could always drink from the river if necessary, but the spigots are pretty darn convenient and already purified.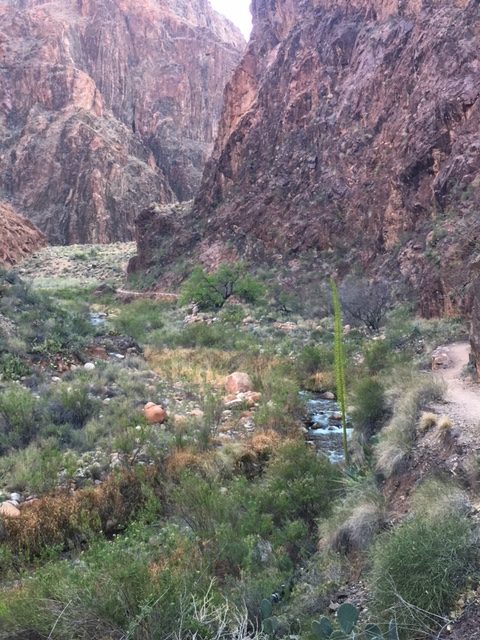 It was a gentle walk along the river, up the canyon. I enjoyed the shade, but already it was in the low-70s. Around 10am, I began the ascent towards the North Rim. The ecosystem shifted from riparian to desert to juniper to pinyon pine eventually to montane pine at the top of the North Rim.
It was around the hottest part of the day as I finished the ascent, and though I'd felt great all day, I began to lose steam. I reached North Kaibab Trailhead and caught up with the ultra runners who I leapfrogged with on the way down early this morning. A quick snack, a change of socks, a long drink, and a splash of water on my face, and I was ready to go.
The hike down was exposed and hot, but I felt good. I enjoyed the walk back along the river, eventually arriving back at Phantom Ranch around 5pm, with only the climb out ahead of me. I stopped to talk with some AZT thru-hikers, grabbed about a liter of water, and started up the climb I'd been mentally preparing for all day.
My muscles felt strong, which was shocking since I hadn't really trained for this. It was extremely encouraging because it means that the healing protocol and all the diet changes and the supplements I've been taking the past 6 months to heal Hashimoto's naturally and get my strength back is working! I can easily recall that as recently as last fall, going out for a 5 mile run made my muscles ache deeply. My body's attack on it's own thyroid gland (the governor of metabolism and energy production) was causing extreme fatigue, among many other symptoms.
Climbing back up to South Rim and watching the shadow fall over the canyon was the morning in reverse. I caught the sunset from about the same spot I'd seen the sunrise 12 or 13 hours earlier. The changing colors on the canyon walls were unbelievable. And then it was dark. It became very windy and my body began to feel the 40 miles. Those last couple of miles to the rim were not my prettiest or the most enjoyable, but the night sky was stunning, and I reminded myself "This is what you came for, Katie".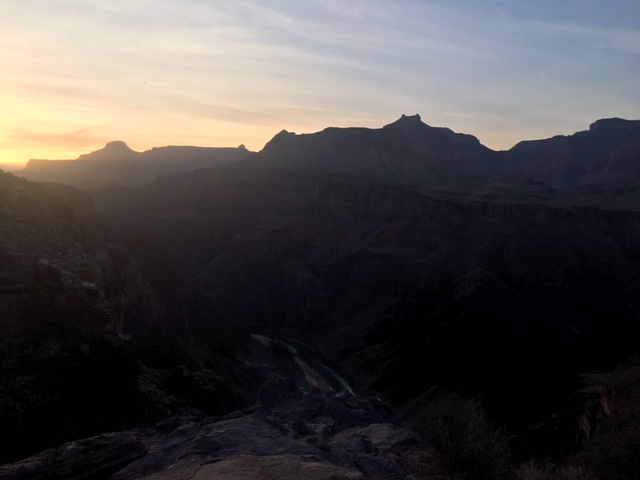 As I crested that last switchback, I congratulated myself aloud, in the third person, of course: "Well done, Katie". Then I walked the half mile back to my car in the dark, admiring the starry sky again, the vast sky with so little light pollution. I took off my sweaty clothes, dumped a liter of water over myself, rubbed Arnica and St. John's oil (anti-inflammatory) on my legs, and curled up in my car nest.
I wasn't sore until I spent the following day driving the 11 hours back to Boulder. Then I was a little stiff. But my heart was full and my mind was content. For now.
A Few More Important Notes
This is a challenging hike to do in a day and it's not to be taken lightly. The Grand Canyon is the third deadliest national park, and there are many signs warning against hiking rim to river in a day, let alone doing a double traverse. I knew that I was under-trained, so I had what I needed to spend the night in the canyon if it came down to that (see gear list below). In the short time I was in the canyon, I met at least 2 people who were definitely unprepared, who were really struggling to get out of the canyon. Be prepared and know your limits.
Gear Carried/Worn
Worn: trial runners, darn tough socks, tights, short sleeve tee, long sleeve tee
Carried:
-daypack
-2 liter water bladder with hose
-headlamp
-trekking poles
-ID, phone
-watch
-sunglasses
-beanie, light gloves
-down jacket
-emergency bivy
-extra pair of socks
-wind shirt
-food (enough for 24+ hours)
-map
What I'd Do Differently
I was dressed too warm. I wore tights and regretted not being in shorts almost immediately. I also accidentally wore all black. Not good for a day spent in the sun. I also intended to carry, but forgot: salt tabs, hand sanitizer, and some type of water purification. None of those things were a big deal, but would've been prudent to have along.
All in all, this was an incredible little trip and I'm grateful to have discovered just how much there is to do in southern Utah and Arizona. It was an epic first visit to the Grand Canyon, and a day that I won't soon forget.