The Adventure Ready online course is your complete guide to increased energy, faster recovery, and improved endurance on your next adventure!
Adventure Ready is a 100% online, self-paced course designed to prepare all aspects of your physical health for your next adventure. You'll learn how to
master your mindset to ensure success
find your unique nutrition plan for optimal performance
optimize gut health (imperative for laying the foundation for health)
develop your unique training plan so you can avoid injury
upgrade your sleep (essential for peak performance)
reduce the impact of stress on your health and performance
enjoy your time in nature without the distraction of aches and pains!
Watch the video to learn more about the course and to dive deep into the the first step of the process: Dialing in your unique nutrition plan for optimal performance. Enjoy!
Adventure Ready Masterclass: How to create your unique nutrition plan for bigger miles, faster recovery, and better endurance on your next adventure.
You'll learn:
6 health practices I used to prepare my body for 3 months of consecutive 30+ mile days on the CDT (despite having an autoimmune disease). These are the same practices my clients use to prepare for adventures like thru-hiking the Arizona Trail, section-hiking the PCT, and biking the California coast.
Why your diet (and digestive health) is the foundation of better performance
Two mindset shifts you need to make to achieve your goals
A simple practice you can do today to help you stick with your eating goals
A free method to detect food intolerances which may be contributing to inflammation, weight loss resistance, inability to gain muscle, hormone imbalances, and all around reduced vitality
How you can determine how much to eat to support your goals as well as how much of that should be carbs/fat/and protein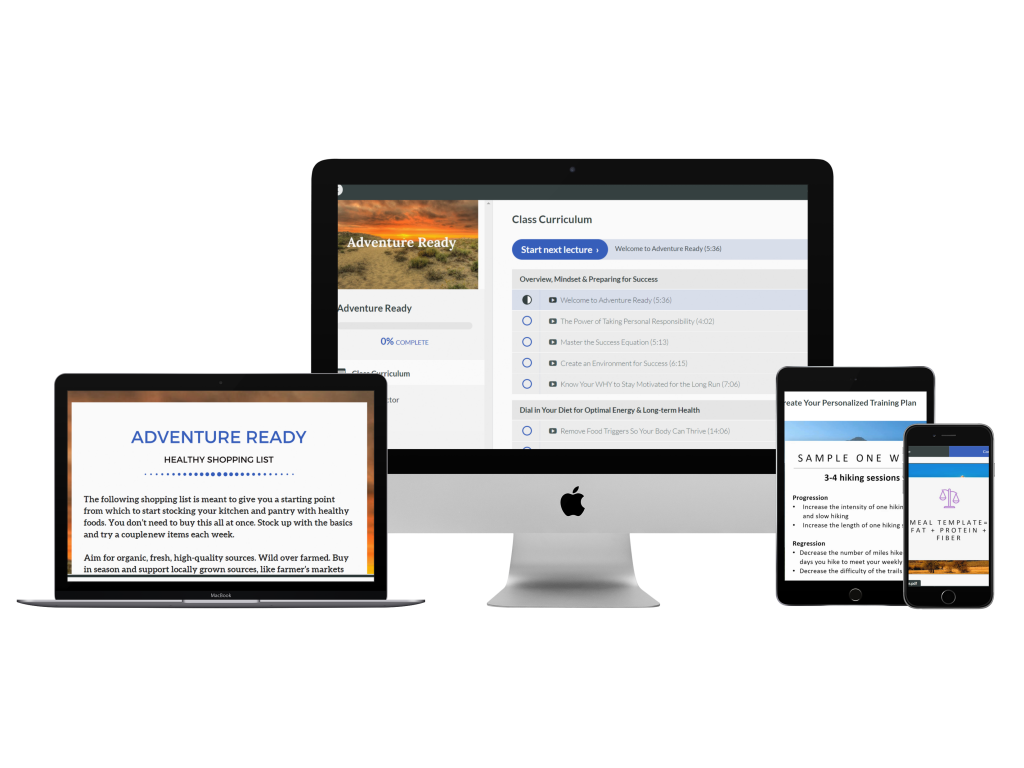 Key Points
100% online, self-paced course
Optimize all aspects of your physical health so that you're fully prepared for your next adventure
Learn through videos, audios, pdf guides, and action steps
Specific progression for efficient results
Join a vibrant community of fellow adventurers
30-day money back guarantee *if you implement the work*
Key Topics
Master Your Mindset: The power of taking personal responsibility, Master the success equation, Create an environment for success, Know your WHY to stay motivated for the long haul
Dial in Your Nutrition for Optimal Energy & Long-term Health: How to remove food sensitivities so your body can thrive, employ an anti-inflammatory eating style, Reintroduce foods strategically, Manage blood sugar for endless energy, Mindful eating for optimal digestion
Optimize gut health for better energy, endurance, and resilience: total gut restoration, how to supplement wisely and effectively, repair and rebuild for lasting results
Build Your Personalized Training Plan: the importance of physical conditioning before your adventure, determine what type and how much movement is right for you, build miles the smart way, avoid overuse injury, create your training plan
Prioritize sleep for better energy, improved endurance, and faster recovery: how to create bulletproof sleep, how to safely use sleep aids
Manage stress effectively: the power of perception, stress relief techniques for real life, adrenal health for adventurers
Success for the Long Haul: tying it all together and creating a maintenance plan
Bonus Gifts
Resource Vault: recommended books and podcasts for deeper learning
7-day Real Food Meal Plan
"I have been focused on improving my cycling and all around health. Over the previous year, I had kept up my activity level but started neglecting my nutrition, stress and sleep regimen. I gained 20 pounds and started feeling sluggish and looked for a reasonable approach toward developing a sustainable program of health. The best thing I did was schedule a complimentary call with Katie and after a few minutes I knew I had found my nutrition coach. Katie is sincere and seems to genuinely care about my journey. While it's only been three weeks, I started the elimination program, and followed Katie's guidance related to supplements, sleep, stress and other lifestyle changes that have been easy to incorporate into my busy schedule. So far, I've lost 15 pounds, sleep better, feel great and no longer suffer from chronic muscle spasms. " –Tom B.