There's truly nothing better than the smell of toasting oats. Except maybe these cookies baking. With the added scents of cinnamon and chocolate in this recipe, the smell of these cookies fresh out of the oven fills a home and a heart with happiness.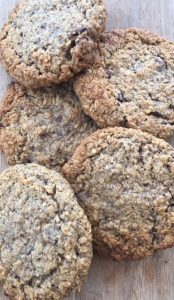 This recipe was another experiment in making a slightly healthier version of an old staple. It contains sugar, so it's still meant to be a treat, but with the added fiber from the extra dose of oats, and the healthy Omega-3 fatty acids from chia seeds, this version of the classic oatmeal chocolate cookie at least has a few redeeming qualities.
The chia seeds are ground (I used a coffee grinder) to increase the surface area. This makes them more bio-available to the body, and once moisture is added to the dough, forms a gel to hold the cookies together since they lack gluten.
If you look back at my Hemp Cocoa cookies, my goal when creating gluten free cookies is to not use other grain mixes, and to come up with a version that tastes as good or better than the original, has a better nutrition profile, and just happens to be gluten free.
Oatmeal Chocolate Chia Cookies (gluten free)
10 ounces butter
5 ounces cane sugar
5 ounces brown sugar
2 teaspoon vanilla extract
3 eggs
10 ounces instant oats, toasted
12 ounces ground oats
2 ounces ground chia
1 teaspoon baking soda
2 teaspoons ground cinnamon
½ teaspoon salt
10 ounces semi sweet chocolate chips
Cream together butter and sugars. Mix in eggs and vanilla. Combine dries in a bowl and add to wets. Mix until well combined. Mix in chocolate chips. Allow dough to sit for 10 minutes before scooping with 2 ounce scoop. This allows time for the chia to become mucilaginous and holds the dough together better.  Flatten cookies into discs before baking. Bake 10 minutes at 325*F.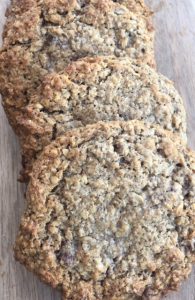 Enjoy!