Wouldn't it be great to know you're choosing the freshest, most nutritious greens possible at the market or grocery store?
As I mentioned in my last post, the same type of fruit or vegetable can vary widely in nutrition from one variety to the next. The 'best' choice is not always intuitive.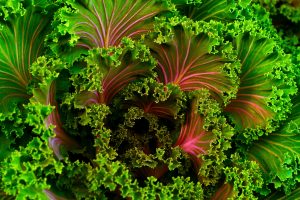 In this post, you'll learn 5 tips on how to select, store, and prepare the varieties that are going to give you the most flavor and nutrition. I'll also list specific varieties to look for. This information is sourced from the fantastic book Eating on the Wild Side by Jo Robinson.
Food As Medicine
Most of the people reading this have access to almost any vegetable they want 12 months of the year. This separates us from the seasonal cycles of plants and also means we are consuming vegetables and fruits that have been picked unripe and shipped across the globe. This is not optimal for nutrition or for the planet.
Seasonality
After a long winter of eating preserved meats, roots, fruit, and herbs, traditional hunter-gathers were hungry for fresh food. The bright green plants that appear in spring are full of phytonutrients and were both food and medicine after a long winter.
Recent studies show that Lamb's quarters (Chenopodium album) for example, fights viruses and bacteria, and blocks the growth of human breast cancer cells. Another common springtime treat, Dandelion leaves have eight times the antioxidants, two times more calcium, three times more vitamin A, and five times more vitamin K and vitamin E than spinach.
What about the Taste?
The flavor of wild plants is more complex and intense than anything you'll find in the grocery store. This is attributable to bitter, sour, and astringent compounds, which give these plants their deep nutrition and medicinal qualities.
As mentioned in the original post of this series, much of the medicine has been bred out of these wild plants, and we're left with incredibly mild varieties, such as our most popular variety, Iceberg lettuce. This equates to a loss in vitamins and minerals in our diet, as well as calcium.
Tips to select, store, and use the most nutritious greens
To reclaim some nutrition and flavor in our diets, and to take a step into eating on the wild side, including nutrient rich greens is a great way to begin.
Choose the most intensely colored lettuces (preferably red, red-brown, purple or dark green) that have the loosest arrangement of leaves.  The most nutritious greens have a more intense flavor. To moderate this, mix greens with a milder variety or add a fat, such as avocado or unfiltered olive oil.

If buying bagged varieties, inspect them carefully, and skip over bags with yellow, brown, or withered leaves. Check the "use-by" date. Look for mixes with red or dark green leaves and choose the freshest one you can.

Preserve nutrients and flavor by separating a head of lettuce into individual leaves or open a bag of loose greens and soak them in very cold water for 10 minutes. Dry in salad spinner or with a towel. Store greens in a resealable plastic bag poked with 10-20 pin-sized holes. Press the air out. seal the bag, and store in the crisper drawer.
For a nutrient-dense salad, add in non lettuce varieties, such as arugula, radicchio, endive, and spinach. Find a greater (and fresher) variety of options at the farmer's market. Take 5 minutes to make your own salad dressing. Bottled varieties often contain trans-fats, preservatives, and added sugar that would be a shame to pour over your delicious greens. For a simple, tasty, and nutritious dressing, toss your greens in some good olive oil, fresh squeezed lemon juice, and a dash of salt and pepper. Or search the Internet for easy home-made salad dressing.
Keep an eye out for the following lettuce varieties and salad vegetables at your supermarket:

Arugula
California salad (mixed greens)
Frisee (curly endive)
Looseleaf lettuce with red or dark green leaves
Rosso di Chioggia (a variety of radicchio)
Rosso di Trviso (also a radicchio)
And the following varieties at the farmer's market or specialty stores: Blackjack (looseleaf lettuce), Cimarron (romaine), Cocade (Oak leaf), Concept (Batavian), Dazzle (romaine), Eruption (romaine), Fire Mountain (looseleaf), Flame (looseleaf), Galactic (looseleaf), Lollo Rosso (looseleaf), Merlot (looseleaf), Marvel of Four Seasons (butterhead), Outrageous (romaine), Prizehead (looseleaf), Red Icerberg (crisphead), Red Oak Leaf (looseleaf), Red Sails (looseleaf), Red Velvet (looseleaf), Revolution (looseleaf), Rouge d'Hiver (romaine), Ruby Red (looseleaf)
With a bit of attention to variety selection, storage, and preparation, your salads can be more flavorful and nutritious than ever before!
Keep an eye out for the next post in this series about alliums (onions, garlic, shallots, leeks, etc) and how to choose for optimal flavor and nutrition.
To tasty salads and good health!