Gluten free backpacking meal plan for energy, endurance & a lighter pack
Here's a snapshot of my backpacking meal plan:

A few notes about this backpacking meal plan:
> 1.43 lbs / 3000 calories per day (appropriate for me for this trip)
> macro ratio that supports muscle repair, recovery, steady energy, pack weight efficiency, and higher output (class 3/4/5 scrambling sections)
> gluten free, dairy free, anti inflammatory
> prioritizes blood sugar balance for optimal energy
> includes a few "secret weapons" including cordyceps mushroom powder (improved endurance), cinnamon (anti-inflammatory, blood sugar regulation), rhodiola (reduces fatigue), collagen (muscle repair, joint support), and electrolytes and extra sea salt (optimal muscle and neuron function)
> less variety rather than more keeps planning and prep simple and quick
My backpacking meal plan process:
1. Determine how many calories to pack. I know from past experience what I need per day, which varies based on terrain (off trail vs on trail, daily elevation gain, etc.), climate, how far into a thru hike I am, and so on. For this trip, which averages 500' of elevation gain per mile and is all off trail and will likely include getting caught in monsoons on a 13,000' blustery ridgeline, I'm packing more calories than I would on a well-graded trail at 4,000' in June.
2. Add breakfasts and dinners first (one of each for each day). I enter basic nutrition info for each item. Seems tedious perhaps, but it makes it easy to swap items in and out to meet my calorie and macro goals (see step 3).
3. Fill in enough snacks and the right kind of snacks to hit my macro goals. On this trip, I'm aiming for ~20% protein, 40-50% fat, 30-40% carbohydrate. I won't go into the reasons for this here as I've written extensively in other places about macros for backpackers and how to choose the right ratios for your endeavor.
I use this process to quickly and easily plan food for all my trips, personal or guided, so that I never have to guess at whether I'm carrying too little (or, more commonly for most, too much) food, and so I know I have the right foods to support recovery, energy, and endurance.
If you find meal planning for trips to be confusing, or if you've wondered how you can eat healthier on trail, hopefully this was a helpful snapshot. I love feeding myself well on trail and feel like it's been one of the keys to my longevity and relative lack of illness or injury on some of my more demanding adventures.
Here's all the food I'm taking. It fits into one 12×20″ LOKSAK OPSAK (the chips will be opened, crushed, and eaten with a spoon).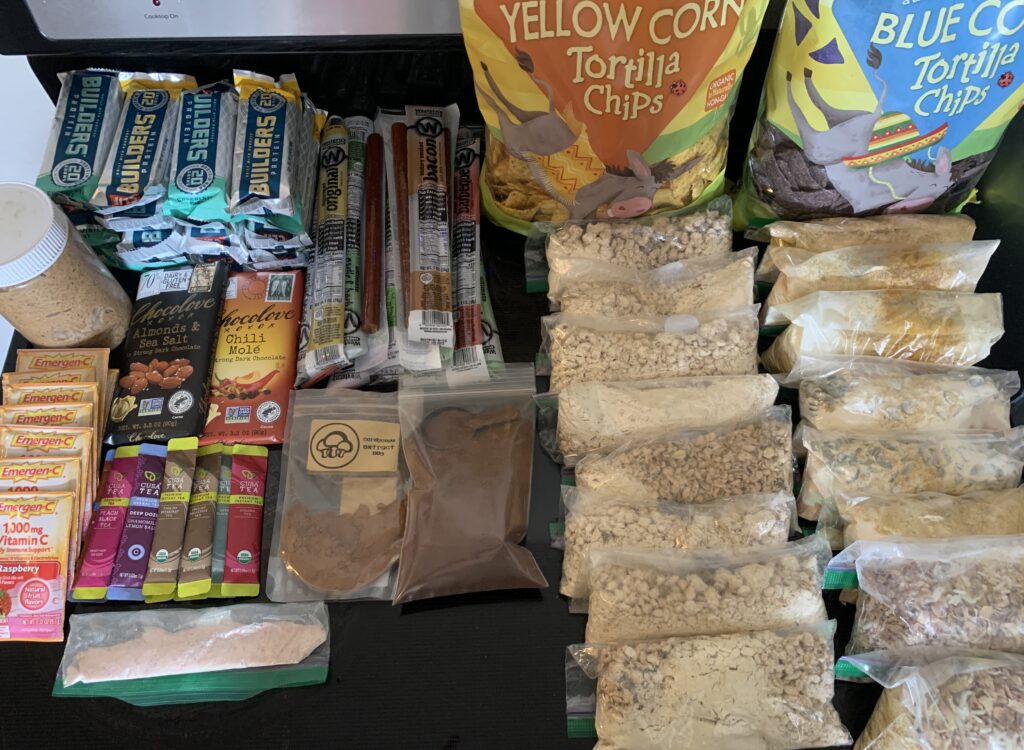 It's a complete framework to quickly master backcountry meal planning so you can enjoy improved energy, faster recovery, and a lighter pack on your next hike. It includes spreadsheets and templates to make planning fast and simple
I created the course based on the process I used to plan a gluten free, dairy free, healthy meal plan that would keep my autoimmune symptoms at bay on a 4-month CDT thru hike.
Here's How It Works:
1. Calculate Caloric Expenditure (i.e. How much food to pack)
2. Dial in Your Macros (i.e. What type of food to take)
3. Choose a Resupply Strategy
4. Create Your Meal Plan
5. Complete Your Goal Hike with Abundant Energy & a Lighter Pack
Students have used this course to meal plan for all range of trips from a weeklong trip in the Cascades to a multi-month hike of the PCT.

Find the details here.