Cookies For Breakfast
I've been expanding my healthy baking horizon lately and have been playing with creating a vegan cookie that is nutritious and delicious.
I prefer not to use gluten free baking mixes that utilize starches and gums. I enjoy creating my gluten free baked goods from ground nuts or seeds, which add a level of nutrition (with healthy fat and protein) and flavor that I don't find in the pre-made mixes.
So, this cookie is made from ingredients you probably already have on hand, except maybe the hemp hearts.
It took a few iterations to get the consistency right, but the final result ended up super-chocolaty (as desired), not too sweet, slightly nutty, and a little crunchy with the hemp hearts on top.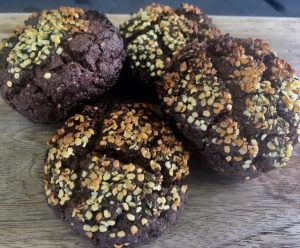 Hemp Cocoa Cookies
(10 cookies) Vegan, Gluten Free, Grain Free
Ingredients
1 cup almond flour
¼ teaspoon salt
¼ cup brown sugar
2 teaspoon baking powder
1 teaspoon baking soda
1 teaspoon white vinegar
2 tablespoons ground flaxseed
2 ounces 85% dark chocolate, chips or coarsely chopped
⅛ cup cocoa powder
2 ounces coconut oil, melted
1 teaspoon vanilla
¼ cup peanut butter
Directions
Mix vinegar and baking soda in small cup. Combine dries in the food processor bowl. Add vinegar and soda. Add coconut oil, vanilla, and PB. Blend until well mixed. Scoop into golf ball size mounds. Dip in whole hemp hearts.
Bake for 8 minutes at 375*F.
Enjoy.