Gear List: Great Basin Trail
Later this month, I'll be heading out to hike 800 miles of the Great Basin Trail (GBT). If you haven't heard of the GBT, it's a roughly 1100 mile route plotted by Ryan "Dirtmonger" Sylva. The route is a loop contained solely within the state of Nevada and the geographic feature of the Great Basin. It traverses 26 mountain ranges and 19 basins. It travels through barren, harsh, remote, and beautiful landscapes. Water sources are unreliable and resupply points are sparse.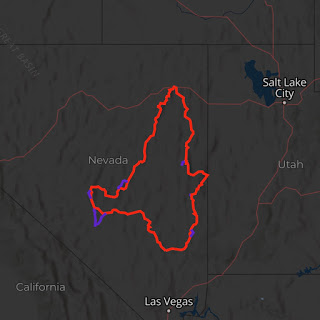 Due to my book editing schedule, I won't have time to complete the entire route in one outing. However, I'll still be able to fit in about 800 miles this spring, from Tonopah to Lake Valley Summit, hiking clockwise around the loop. 
Ryan plotted this route in spring of 2020 and has provided an incredible abundance of resources for GBT hikers. These can be found on his website, along with his striking photos and compelling route descriptions. It's worth your time to check out his GBT resources whether you plan to hike the route or not. For those who do wish to hike some or all of the GBT, it would be remiss of me not to mention that it requires off-trail navigation and route finding skills, comfort with hot, harsh, dry environments, and a fondness for desolate, remote places.
Route Conditions
The primary factors influencing my gear selections are my intended style of hiking and the expected conditions. My preferred approach to long distance hiking is to hike dawn to dusk, spending time in camp only to sleep and charge up for the next day. Because I like to cover miles, I aim to keep my pack weight fairly light, while still being safe and comfortable. 
When researching the route to understand what to expect, I'm looking at average temperatures (adjusted for elevation), average precipitation, wildlife, amount of off trail travel, trail type, terrain type, vegetation, sun exposure, water availability, and remoteness.
The value in researching what to expect is that it helps me:
1) alleviate fears about a hike,
2) ensure I have the items I need (and not the ones I don't), and
3) understand the skills I need to improve upon before the embarking on the trip. 
Gear List Summary
What's in my pack for this trip?
My gear selections are based on the expected conditions. Because water sources are distant and unreliable, I'll have a 6 liter water carrying capacity. I'm also bringing my warmer sleeping bag, warmer down jacket, and a midweight fleece as I expect to be sleeping above 8,000' regularly and hiking along windy, exposed ridgelines. I'll also be carrying a pack that's comfortable at 25-30 pounds, as I'll regularly be carrying more water and food weight, along with warmer clothes.
My full GBT gear list can be seen here. 
Questions about my selections or the route? Comment below.