This granola is super simple to make. It's quick (less than an hour including bake time) and the ingredients are easy to find in any supermarket.  A little bit keeps me satisfied and full of energy for a long day in the mountains.
I like to make a batch of this to have on hand as an easy on-the-go snack for long day hikes and backpacking trips. It's full of healthy fats and protein. It's free of gluten, grains, dairy, and refined sugar. It's calorie-dense, healthy, and delicious. Plus, it's easy to omit or swap out ingredients depending on what's in your kitchen!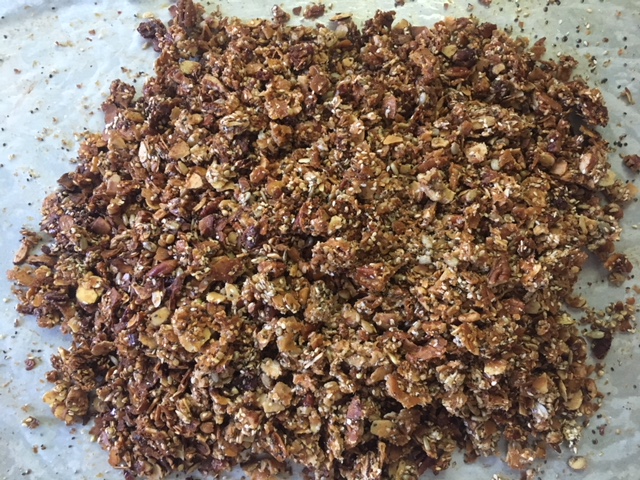 Paleo Granola
*free of gluten, grains, dairy, refined sugar
1 cup (4.5 oz) chopped pecans
3 cups (6 oz) coarse coconut flakes
1.5 ( 6 oz) cups sliced almonds
1 cup (6oz) pumpkin seeds
1/2 cup (4 oz) sesame seeds
1/2 cup (3 oz) sunflower seeds
1/8 cup (0.75 oz) chia seeds
1/4 cup (1 oz) hemp hearts
1 tsp sea salt (Pink Himalayan is my favorite)
1 tablespoon pumpkin pie spice (blend of nutmeg, cinnamon, ginger, nutmeg, allspice, cloves)
1/2 cup (4 oz) grass-fed butter (or olive oil or coconut oil)
1/2 cup (6.5 oz) honey
Mix all the dries together. Melt honey and butter, and mix into dries. Spread onto parchment lined cookie sheet.
Bake 25 min at 300 or until lightly golden brown. Be careful not to overbake! This can happen quickly.
Allow granola to cool,  and break into clusters of whatever size you like. Add in dried fruit, such as blueberries or cranberries, if desired.
Store in glass jar at room temp for up to 10 days.
Yum!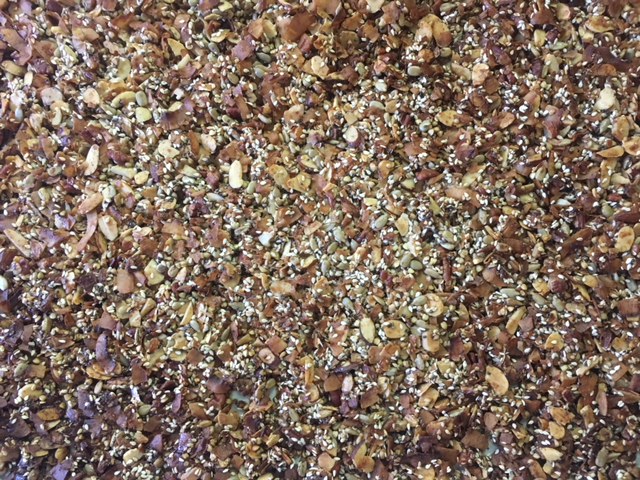 Like what you're reading? Sign up here to be the first to know when new posts come out!