Fresh Basil Hummus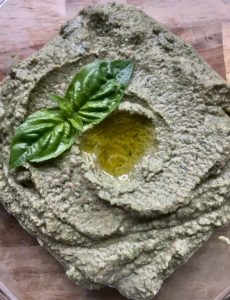 Garden Goodness
July has flown by and it's already mid-August! The garden bounty is at it's peak and we have an abundance of vibrant, verdant, fragrant basil.
Of course, the first thing that comes to mind is pesto. I whipped up a big batch yesterday and froze most of it for the winter months when something green and homegrown will be a special treat.
I was craving hummus today and my preference is always to innovate with what's on hand, so I decided to experiment with making a fresh basil hummus. The smell of the kitchen while making this recipe is fantastic and the greenish hue of the finished spread is awesome!
Summer is the Season for Fresh
Even if you don't have a garden, fresh herbs are abundant at farmer's markets in the summer. Pick some up and add them to your next dish. Beyond being loaded with flavor, fresh herbs are some of the most nutrient dense foods we can eat.
This basil hummus recipe is as quick and straightforward as it gets. Whip it up as detailed below or use this as a starting point and make up your own based on your preferences and what's available near you!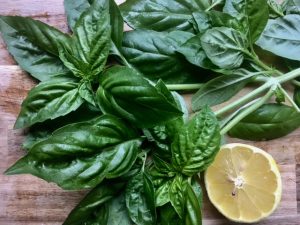 Fresh Basil Hummus
Ingredients
2 cups packed fresh basil leaves
2 cloves garlic
Juice of 1 lemon
15 oz canned chickpeas, drained (but save the juice for adjusting hummus to desired consistency)
1 tsp liquid aminos
¼ cup tahini
¼ walnuts (or pine nuts)
Salt, pinch
Pepper, pinch
Cumin, pinch
Combine all ingredients in a food processor and blend until thoroughly combined. If the hummus is too thick to be processed or thicker than desired, add juice from the drained chickpeas a little bit at a time to reach the desired consistency. I like mine creamy, but still thick enough to stick to cut veggies, like celery and carrots. Adjust to taste. I often add an extra clove of garlic and a bit more lemon juice and cumin because that's what I enjoy.
When you learn the basic method, you can ditch the recipes and create based on what YOU enjoy. Cooking, like art, is a creative and personalized process!