A portion of this content was created as part of a collaborative effort by the executive board of the American Long Distance Hiking Association – West for a presentation at one of their spring Rucks.
What am I going to eat?!?
This is a big concern for hikers heading out on a long trail. What, when, and where you're going to pick up your next food drop on a hike is something that you'll want to consider, at least briefly, before hitting the trail.
This article will cover how to start planning your food resupply for the trail. We'll review your options, including the pros and cons of each, and wrap up with some tips for execution.
Resupply Planning Overview
Begin by identifying where you absolutely must send a box. There will almost certainly be at least a couple of towns like this on each trail. These towns have extremely limited or non existent resupply options. You'll need to look at what resupply options are available in a town and determine if that's adequate for how you like to fuel your hike.
In that regard, it's helpful to know ahead of time what type of food makes you feel best when you hike. I encourage you to experiment before you get on the trail! For instance, I (as you might imagine) like to eat pretty healthy, so five days of snickers, pop-tarts, and pastries wouldn't cut it for me. Others might be 'fine' with this. The point is that it's important to know thyself.
You don't have to find resupply information from scratch! Nearly every trail has an associated trail organization that will provide some information on resupply options available in each town. Use that guide to determine where you will need to send a box. Additionally, you can find other hikers' resupply strategies for a particular trail by reading trail journals. You can also consult survey results from each year's previous class of hikers.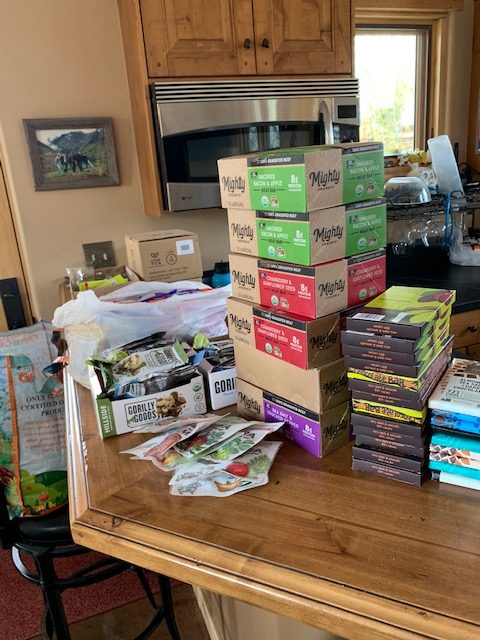 How to Send a Box When One is Needed
Once you determine where you need to send a resupply box, you have a couple of options on how to do that. You can 1) purchase your food ahead of time, box it up, and solicit a point person to send it out for you, or 2) you can purchase food on trail at a town that's 100-200 miles ahead of the town where you'll need the box sent. Plan for mail to take at least five days.
Food boxes can be sent General Delivery via the United States Post Office (USPS). Alternatively, they can be mailed to a store, motel, or restaurant in that town that accepts hiker food boxes to be sent to them. Either way, call ahead to inquire about the correct address and hours. Additionally, if it's not a PO, ask whether the place accepts boxes and if there's a fee associated. Also ask if it's best to send USPS, FedEx, or UPS.
To find the Post Office that handles General Delivery in any area, call 1-800-ASK-USPS or check usps.com. Rates are found on the website and currently, they range from $13-19 for medium to large flat rate boxes.
How to address your USPS box for general delivery:
JANE HIKER
c/o GENERAL DELIVERY
TOWN, STATE ZIP
It's recommended to write "PLEASE HOLD FOR HIKER (name), ETA: (date)" somewhere on the box. Furthermore, it's recommended that you use priority mailing via USPS because, if for some reason, you cannot pick up your box, you can "bounce" that food box to another post office up/down the trail or request it be returned to sender. On that note, always include a return address.
Options for Your Resupply Strategy
Now that we've covered how to handle your resupply when you absolutely need to send a box to a location, let's look at your overall strategy.
Essentially, you have three options: 1) Prepare boxes in advance to send to each location you want a box. 2) Buy as you go, sending boxes ahead to each location you want a box. 3) A mix of the above strategies. Read on as to why you might choose one strategy or another.
Buy Ahead Resupply Box Approach
This option entails preparing and packaging food at home to send to towns on trail where you determined you need or want a box. You buy groceries in towns where you don't send a box.
This approach requires that you purchase all of your food in advance, (possibly) repackage it, and box it up before you hit the trail. It also requires that you have a responsible point person to send your box out in a timely fashion. If boxes aren't picked up at the PO within two weeks of arrival, they're sent back to the return address. As a footnote, if you think you won't make it to the PO for your box on time, try calling them, explaining the situation, and asking them to hold it a bit longer. Be kind and they'll likely say yes.
For best success with this option, pack your box ahead of time, address it, and have it ready to go, but do not tape it shut. It may be necessary to have your point person add or subtract items that you discover you need or don't need in the box. Additionally, you might consider numbering your boxes, so when instructing your point person to send a box you can email, phone, or text and say, "please send box #3 out by this date." This ensures no thinking or second guessing on behalf of the point person. Make it easy for them!
PROS
You can guarantee your nutritional needs, wants, and desires. Organic and options for restricted diets can be limited. A good option for those who need prescription medications.
You can budget your food.
No need to spend time in town purchasing food for the next stretch. Less chores in town frees up more time for relaxing. Alternatively, you may choose to just pick up your box and leave town. In that sense, this option is great if you're in a hurry.
You can send hard to find items like gas for your stove (IF YOU SEND VIA GROUND ONLY). Basically, if there's a need you discover while on trail, you can ask your point person to send it.
You can add your maps for your food box to avoid mailing them separately.
CONS
You're stuck eating what's in your box. Of course, you could send it back and purchase in town if needed, or you could throw it in the hiker box. But typically, the cost of not eating what you've already purchased, packed, and mailed outweighs the cost, time, and energy of sending it back home and buying in town.
Requires more planning time before you hit the trail.
Post office hours vary and sometimes you may get into town after the PO is closed or on a Saturday whereby you will have to wait until Monday morning to get your food. PO's can close down seasonally.
The box gets sent back because it wasn't picked up in time.
The delivery gets mixed up by your point person or just fails to get to the PO.
Buy As You Go Resupply Approach
If you don't have dietary restrictions and you want to ease the pre-planning time before you embark on your adventure, the buy as you go option is ideal.
Most towns have grocery stores, both large and small, where you can purchase food. Others, however, have only a gas station/convenience store, which is basically the "bottom of the barrel" when it comes to nutrition.
PROS
You can support local businesses.
You can purchase the food you are craving and change up your menu as you hike.
If you have food left over when getting into town, you don't need to buy those items in town.
You're not tethered to the open and close times of the PO.
If you have to leave the trail due to illness, injury, homesickness, etc… you don't have a ton of un-eaten trail food boxed up at home. (If you do, you could donate and send it to hikers in need).
CONS
Prices can be slighter higher than average in a remote grocery store.
Organic, vegetarian, vegan, gluten-free, etc… foods and specialty items are typically not available in small towns.
Hikers ahead of you may wipe out staple items like tuna packets, ramen, coffee, etc. before you arrive.
Combined Approach
You could use a combination of both strategies. This entails sending some resupply boxes ahead of time, from home, and mailing some ahead while on trail. For some, this is the best of both worlds. To determine which towns need a box sent and how to do that, consult the first section of this post.
For the boxes you send from home, send those to places where you want to send prescriptions medications or where you want to send food items you can't get in most towns. This may include dehydrated foods you've made ahead of time or specific brand name or specialty items. For sending boxes from on trail, the idea is to ensure freshness, satisfy new cravings, and adds variety to your trail diet.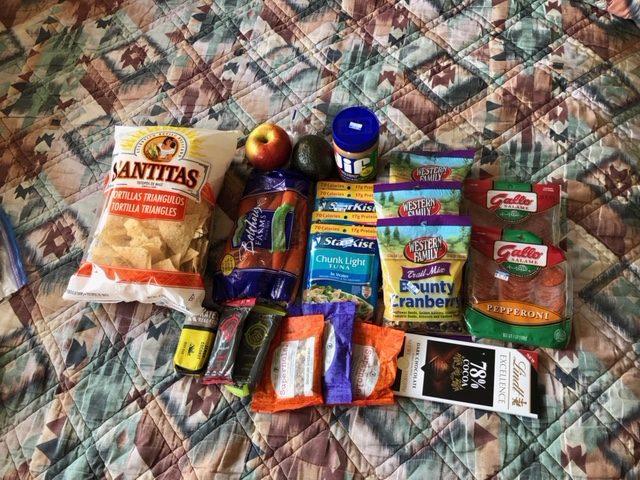 General Resupply Tips
Create a resupply spreadsheet. Having a spreadsheet with your resupply locations, whether you'll send or buy from that location, how much food will be needed for the next stretch, and any other pertinent information is helpful for staying organized and reducing stress once on trail. Be sure you can access this spreadsheet from your phone and leave a copy with your point person, if you have one. Here's a sample from my Oregon Desert Trail hike. Feel free to use this as a template!
Collect tiny condiment packages throughout the year. These little packets of ketchup, mustard, honey, hot sauce, relish, salt/pepper, etc. are perfect for tossing into your resupply boxes you send from home. They can really spice up a trail meal 😉
Add flair to your resupply box. There will be hundreds of boxes JUST LIKE YOURS sent by hikers JUST LIKE YOU to these post offices. Adding a giant sticker of a walrus, unicorn, yeti, etc. to the side of the box helps identify your box from others. When you arrive to pick up your box, give them your name and say, "it's the one with the giant pink squid on the side." 
Add extra ziplocks into your resupply box. You may decide to throw some of your food into the hiker box and/or purchase some food that needs to be re-packaged. 
Consider tossing in travel size soap, shampoo, conditioner, laundry detergent, razor, etc. for resupply boxes to towns where you plan to take a zero day. 
For a deep dive into performance nutrition and meal planning for backpackers, check out our online course on the topic.
Related Posts
How to Create a Healthy Resupply from a Convenience Store
Sample Lightweight Healthy 5-day Meal Plan
The Thru-hiker Calorie Myth: What your diet is missing and how to eat for optimal energy and endurance instead
Want to prepare your body for optimal endurance, energy, and recovery on your next hike? Watch our free Adventure Ready Masterclass on creating your unique nutrition plan!