If you've spent any amount of time in proximity to the long distance hiking community, you're likely aware that food is a frequently discussed topic. What will I pack in my resupply box? When is my next snack break? What will I eat in town? Food, food, food…and rightfully so, as thru-hikers burn through 3,000-6,000+ calories per day.

It won't take long and you'll notice a common mentality surface: hikers need a lot of calories and the source of those calories doesn't matter. In fact, some even claim that you need junk food to fuel a long distance hike because it's assumed to be calorie-rich. This sole focus on calories is the thru-hiker calorie myth.

I call B.S. You can finish a hike relying solely on processed carbs. I've seen hundreds of hikers do it, but it's certainly not necessary, and you'll likely plow through your body's reserves and compromise performance in the process. If the junk food diet approach doesn't interest you for whatever reason (i.e. long-term health, performance optimization, environmental impact, dietary restrictions), rest-assured that there are feasible alternatives.

While the body can and will use any source of energy you give them, I'd submit that there are definite advantages to fueling on whole foods and significant disadvantages to relying solely on junk food.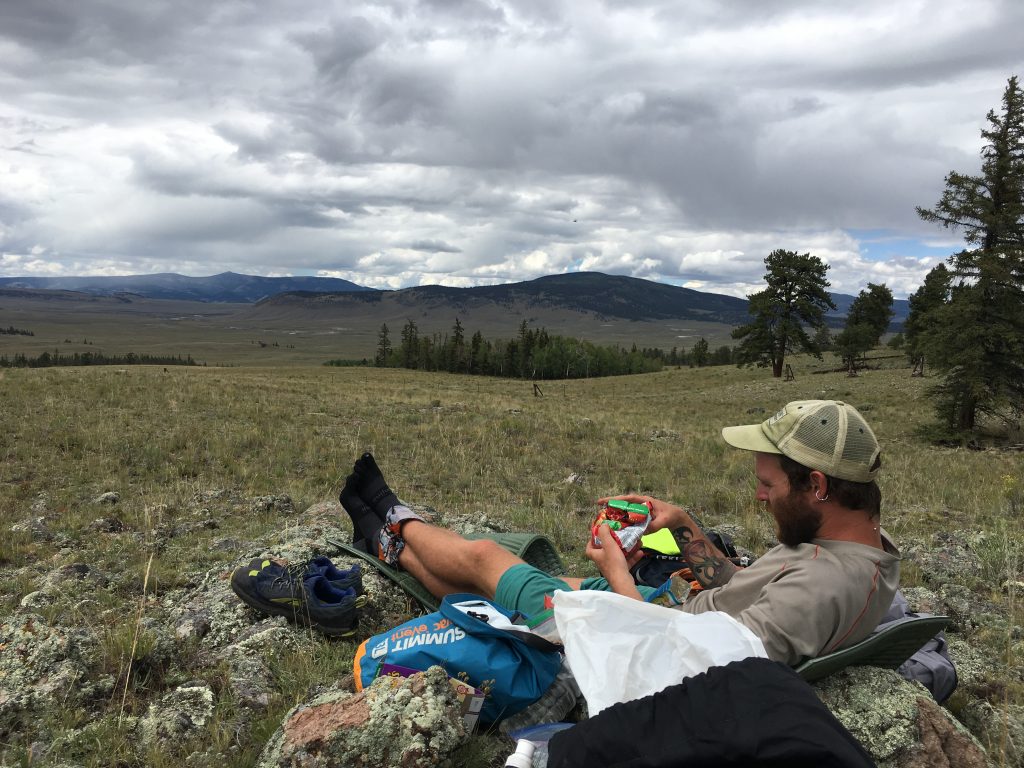 What is the 'thru-hiker diet'?

It's hard to imagine a diet worse in quality and nutritional benefits than the Standard American Diet (SAD), which is an obvious culprit in the U.S. obesity epidemic (affecting 1 in 3 adults) and a strong contributor to the current chronic disease crisis (affecting 1 in 2 adults).
But there is one diet that is arguably even worse, and that's the standard Thru-Hiker diet. This diet consists primarily of heavily processed, packaged foods, which are loaded with preservatives, artificial ingredients, colorings, trans fats, and excess sugar. Of course, this way of eating developed because hikers need high calorie food, which is light, packable, and tasty, but many are unaware of the true impact of fueling on these foods, and the alternatives which exist.
Why Not Maximize Performance, Health, and Enjoyment?

It takes a lot of effort and sacrifice to bring a long distance hike to life. Why just survive out there when you could feel truly awesome? It's simply a matter of tweaking something you're already doing: eating.

The intention of this post is not to impose guilt or even to persuade you to eat a certain way. Rather, the intention is to provide a resource for those seeking an alternative to the thru-hiker junk food paradigm (as I was). On a deeper level, the intention is to provide a beacon of truth in a very crowded landscape of marketers who are trying to sell you their products. It's to help you develop your own compass, so you can take control of your health (because no one else is going to do that for you).

So, what are the downsides to fueling on junk food? What does the science say? What's the alternative?

First, Some Definitions

When I refer to 'junk food', I'm referring to highly processed, packaged foods. They are often high in refined sugars and have lengthy ingredient lists containing additives, preservatives, food dyes, and artificial ingredients. Generally, they're high in calories and low in nutritional value.

'Whole foods', on the other hand, are unprocessed, unadulterated, and generally quite close to the form in which you'd find them in nature. They are free of artificial ingredients and additives, and if they're in a package at all, the ingredient list is short and consists of recognizable ingredients.

Calories matter, but that's not all you need.

When you're moving for 10+ hours per day, the obsession with calories is understandable. And while junk food certainly provides calories (though not always as much many assume), the primary downside is that it lacks the nutrients that will keep your body functioning optimally during rigorous physical demands.

I often hear hikers say, 'I'm losing weight eating this way. How can I be unhealthy?'. Frankly, on trail or off, the focus on weight in the overall picture of health is myopic. Energy balance is important, but your food should do more than just provide calories.

When your muscles are strained as they are during a long distance hike, vitamin and mineral stores are depleted more quickly than when sedentary. These micronutrients are essential for athletes because they contribute to energy metabolism, amino acid synthesis, red blood cell synthesis, and overall reduction of inflammation (which increases during exercise). The increased nutrient turnover in athletes leads to an increased dietary requirement. Where are these micronutrients found most abundantly? Whole foods (especially fruits and veggies).

Fitness ≠ Health

It's commonly assumed that because thru-hikers are fit that they are healthy. However, you can absolutely be fit, but unhealthy. In a 2016 review in Sports Med-Open, the authors clarify the difference between fitness and overall health.

Fitness is the ability to perform a given exercise. Health is an overall state of well-being where physiological systems are operating optimally. The general term given to unhealthy athletes is overtraining syndrome, and the authors argue that the primary drivers of this are "high training intensity and the modern-day highly processed, high glycemic diet. Both factors elicit a sympathetic response through the hypothalamic-pituitary-adrenal axis, in turn driving systemic reactive oxygen species production, inflammation, and a metabolic substrate imbalance towards carbohydrate and away from fat oxidation, manifesting in an array of symptoms often labeled as the overtraining syndrome."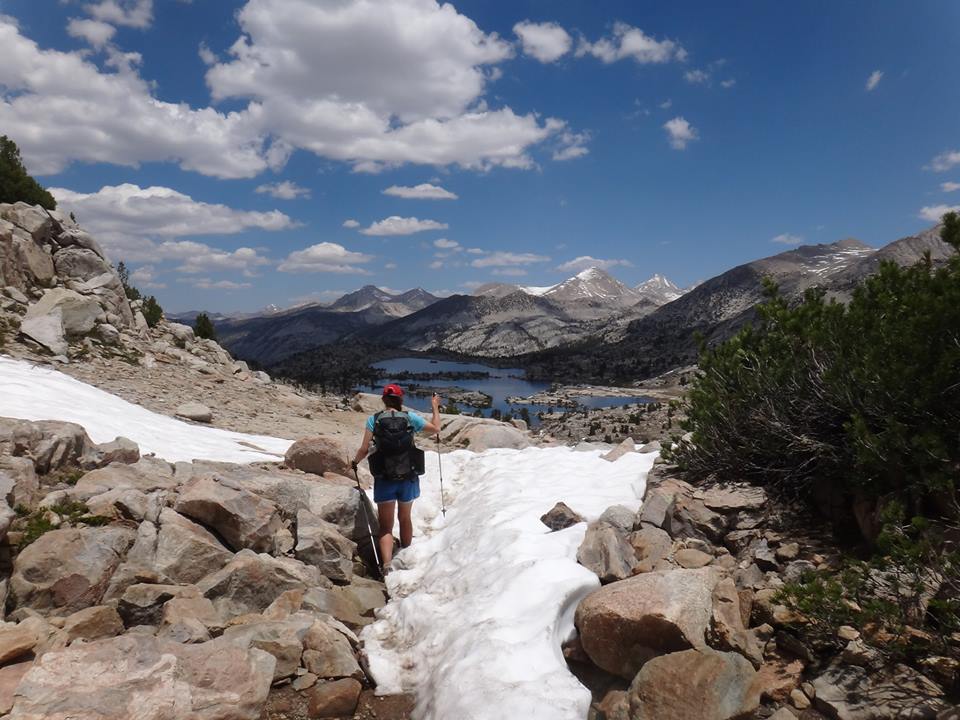 The Dangers of a Junk Food Diet

Inflammation and Impaired Long-term Health

What does inflammation mean for the hiker? When inflammation is high and persistent, it affects all body systems. In the short term, this means suboptimal performance, increased muscle soreness, longer recovery times, slower wound healing, increased susceptibility to illness, and less mental acuity. Not good when you're hiking a marathon a day for 5 months. In the long term, chronic inflammation increases your risk for heart disease, stroke, type 2 diabetes, and obesity.

The main drivers of inflammation in a typical hiker diet are refined sugar and trans fats. Refined carbs found in ultra-processed foods have been shown to promote overeating, negatively impact your microbiome, and damage your intestinal barrier, which we'll go into in a moment. Junk food also tends to be high in omega-6 fatty acids, which can contribute to inflammation when not balanced with omega-3 fatty acids. Additionally, the food additives found in many processed foods have been shown in mice studies to contribute to colon cancer and inflammation.

Highly refined vegetable oils as well as sugar, both found abundantly in junk foods, provide the raw materials for inflammation in the body. Furthermore, it has been demonstrated that in healthy populations, reliance on fast foods and sugars is positively correlated with symptoms of metabolic syndrome. While this may not manifest during a hike, it's still something to consider as you choose your food for a multi-month thru-hike.

Increased Illness, Slower Healing, and Slower Recovery

You can decrease the likelihood of ending your hike early by changing what's in your food bag. The full body inflammation caused by excess intake of ultra-processed foods increases susceptibility to injury and illness. In 2017, injury and illness accounted for 17% of AT hikers quitting their thru-hike attempt.

Chronic inflammation also suppresses your immune system, thereby causing slower wound healing and slower recovery. It's not uncommon to endure small wounds on trail, and quick healing reduces the chances of developing a serious infection that could end a hike.

Impaired Gut Health & Intestinal Permeability

Intricately tied to inflammation is the health of the gut lining. Sugar and refined ingredients, as well as several food additives and preservatives, have been shown to disrupt the digestive system and contribute to intestinal permeability. This is particularly true when exposure is chronic.

It's helpful to remember that your liver has to process everything that you put into the body. Think of it like a water filter. Think about what happens when you filter from a dirty cow tank, for instance.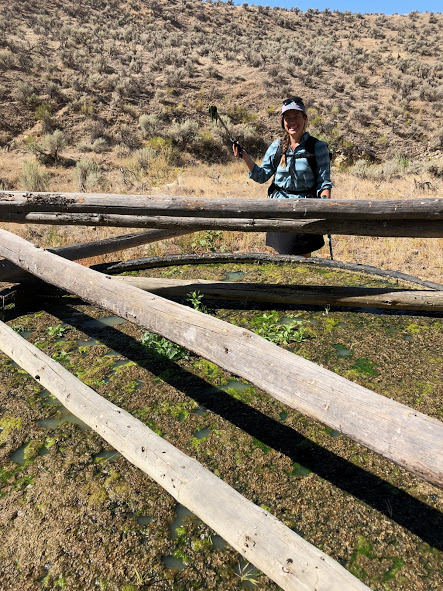 Decreased Mental Clarity & Motivation

It's often said that thru-hiking success is 90% mental. Whether you agree with that or not, there's no doubt that the mental game is a huge part of successfully completing your adventure. And what you eat directly affects your brain. Steady blood sugar helps you make better decisions and stay motivated over the long haul. Eating a nutrient-dense diet also helps with navigation and making smart decisions in the backcountry.

Energy Imbalance & Bonking: One ticket for the energy roller coaster, please.

Another aspect of relying on processed carbs all day is the effect on your energy. When you eat food, your blood sugar levels rise, and your pancreas releases insulin to shuttle glucose from the bloodstream into cells. This is a good thing. It gives you energy. However, how quickly your blood sugar rises and falls depends on the source of the energy. Refined carbs alone will cause a rapid spike and then crash in blood sugar. You'll crave more sugar and start the cycle over. This is the energy roller coaster and once you're on it, it's hard to get off. More complex carbs, on the other hand, along with eating healthy fat, fiber, or protein with meals and snacks will slow down the response and provide more sustained and lasting energy.

Think about tending a fire. You need the kindling for a quick burning fuel source and you need logs for a long sustained burn, so you're not constantly feeding the fire with kindling. Carbs are the kindling and can be great for quick energy, but pair them with fats and protein for more sustained energy.

When you rely solely on simple sugar all day, you tend to have a lot of energy spikes and crashes. Completing a long hike requires long days. The key to having sustained energy and hiking big miles is avoiding the spikes and crashes by steering clear of highly-refined, processed foods.

Increased Hunger & Increased Pack Weight

Consuming foods devoid of nutrients leaves the body unsatisfied, even when a large amount of calories have been consumed. This leads to endless hunger and results in buying and carrying more food than you may actually need. A 2019 study indicated that people eat more on an ultra-processed diet than on a whole foods diet. Just by cutting out the processed foods, your hunger will naturally regulate itself. Studies also suggest that a high micronutrient diet (vs. a low micronutrient, but high calorie diet) can not only help you experience less hunger, but can make the hunger symptoms more tolerable. While many hikers aren't trying to lose weight intentionally, most would agree that it'd be nice to not constantly feel ravenous.

Ultimately, when you're hungrier, you eat more. When you have to eat more, you have to buy more and carry more, which obviously results in more money spent and a heavier pack. A heavier pack not only decreases enjoyment, but can lead to increased wear and tear on the body, and ultimately to injury. Of course, there's the very real fact that your body is working hard and needs a lot of calories, but most hikers I know who've shifted to more whole foods don't seem to have the same level of hiker hunger as those eating only processed foods.

Creation of Unhealthy Habits

Repetitive behaviours turn into habits in as little as 3 weeks. When you've been training your body for months to eat and crave junk food, it can be difficult to shift to healthier patterns once you return home. The consequences on your body and mind are real. It may seem like no big deal at the onset, but most of us know how difficult it can be to retrain ourselves and form healthy habits.

Post-trail Weight Gain & A Messed-Up Relationship with Food

An infrequently discussed topic in the hiking community is adjusting to life post-trail, especially when it comes to eating and health. Hikers may lose weight in the short term, but over the course of a few years, a highly processed diet contributes to obesity and metabolic syndrome (two of the mostly costly worldwide epidemics), and mounting evidence suggests that these foods also play a part in immune-mediated metabolic dysregulation. This is relevant for the hiker who is taxing her system on trail and needs a healthy immune system to remain strong and resilient, both in the short and the long term.

It's not uncommon to hear hikers joke about having two wardrobes: one for hiking season and one for non-hiking season. Obviously there's a massive decrease in physical activity which can lead to rapid weight gain if one doesn't regulate food intake. Consider that it's easier to regulate food intake when 1) you're eating whole foods (as cited above) and 2) your taste buds haven't been trained to crave highly processed foods.

It's rarely discussed, but when hikers return home and attempt to shift their diet, it can also be emotionally challenging. Cycles of binging and then restriction are not uncommon and are worsened by cravings for highly palatable, ultra-processed foods. This can not only lead to a disturbed relationship with food, but can contribute to the post-trail depression many experience.

Increased Incidence of Cardiovascular Disease, Autoimmune Conditions, and Allergies

We've already covered the increased risk of metabolic syndrome from eating a processed diet over the long term. A junk food diet is more likely to result in cardiovascular disease and autoimmune conditions that will affect you long after you're off the trail. Processed foods are also more likely to cause allergies.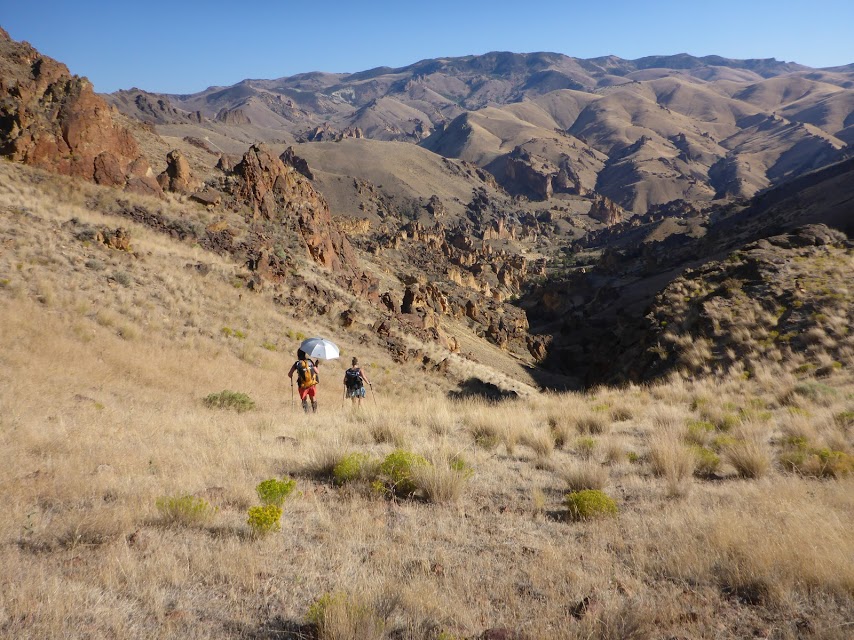 Looking at the Bigger Picture

We evolved with whole foods and we're only beginning to understand the health implications of the alterations being made to foods, such as genetic engineering, pesticide residues, and the addition of preservatives, food colorings, synthetic chemicals, and more.

As a reminder, highly processed foods were not created the way they are for your health. They were created to be cheap for the companies to make, to have a long shelf life, and to make you eat more. You're literally up against billions of dollars of research and food scientists focusing solely on those outcomes. When reading headlines or even when looking at the literature, it's helpful to look at who sponsored the study and how it was conducted.

For example, the Academy of Nutrition and Dietetics (formerly the American Dietetic Association), the world's largest association of nutrition professionals, was funded by Coca-cola until 2015, and many of their 'Fact Sheets' were written by industry sponsors. This is the organization Registered Dieticians (RDs) are credentialed through. This is not at all to imply that there are no ethical dieticians, but rather to suggest that you might consider looking into the research for yourself. Look at who is funding that study telling you that candy bars are healthy.

Again, it's not about moralizing food and saying that some are 'good' and some are 'bad'. But it is true that some foods contribute to overall health, while others are more likely to cause your health to deteriorate. Be informed.

Finally, the environmental impact of our choices is something we all need to be aware of. Industrial, highly-processed, GMO-filled foods increase the profits of mega-corporations at the expense of the environment we love so much.

What does the grandfather of long distance hiking have to say? (#whatwouldraydo?)

Interestingly, in Beyond Backpacking, originally published in 1992, author Ray Jardine suggests that in regards to backpacking food we "consider not only the whims of our taste buds but the physiological need of our bodies and brains… If our journeys degenerate into battles, in terms of lost energy and mental buoyancy, then I think those battles are usually won or lost in the grocery stores, rather than on the trails".

Jardine goes on to point out how to recognize junk food in its various forms and reveals how not all "food" is food. He states that "poorly nourished hikers often find themselves low on energy and endurance. They usually assume that hiking is inherently tiring, and that the steepness and length of the trail is to blame for their weariness. Malnutrition can also manifest in the hiker's mental outlook."

Jardine points out the dangers of nutrient poor foods and food additives. He even covers the 'calorie myth', stating "sugars are high in calories but they do not provide us with usable energy. Nor do they encourage recuperation from strenuous exercise, cleanse our muscles of their byproducts, help repair micro-damaged muscles fibers, or help strengthen our muscles and increase their stamina. Sugars are also quite useless at promoting mental acuity."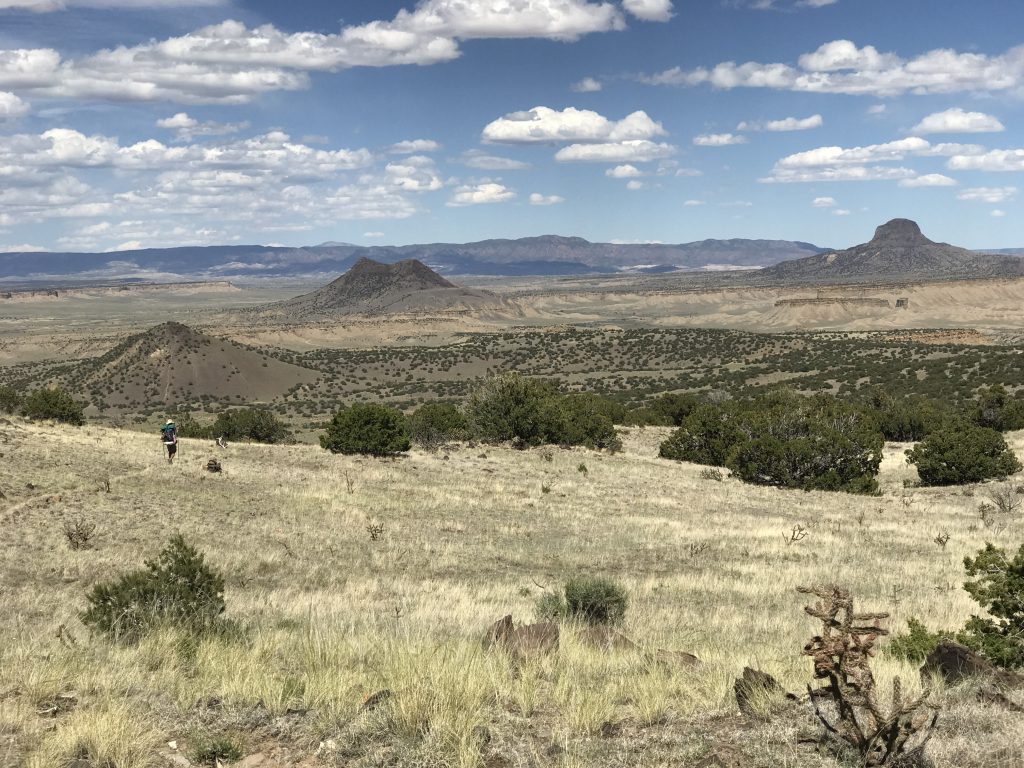 The Alternative

Somehow, the junk food diet became the norm in thru-hiker culture, which seems odd, really. In what other realm do you see athletes pushing to the edge of their physical limits by fueling on the worst foods they can find?

Fueling for energy, endurance, and overall health does not have to difficult or expensive as many hikers believe. At a very basic level, just do your best to eat real food. Yes, food manufacturers have made it more difficult to do this. However, with a few simple tips (see below) and a bit of practice, you'll soon be a pro, reaping the benefits of increased energy, endurance, mental acuity, and long term health.

Removing the junk from your food bag doesn't mean you need to go buy expensive foods marketed as 'sports' foods (like clif bars or gatorade). Many of those are just candy bars in sheep's clothing: similar ingredients with a marketing spin. Whole foods from bulk bins are often less expensive and, as covered earlier, you'll likely need to carry less to fuel you.

If you're not eating the ultra-processed stuff, where will you get your carbs? Carbs are an important part of fueling a long hike, but you can get them from dried fruits, tubers, legumes, whole grains and other real food. Relying on the highly processed ones is not only unnecessary but can be damaging to your performance and long term health, as discussed.

5 Ways to Avoid the Pitfalls of the Junk Food Diet

When it comes to eating for endurance, and overall personal and planetary health, I tend to follow a credo more than a specific diet. I don't like the word 'diet' because it conjures up ideas of strict rules and restriction, which is not what I'm suggesting. A credo is more of a set of principles that guide your actions and beliefs.

Think of your food choices as a continuum with a 100% Junk Food diet on one end and a 100% seasonal, organic, unprocessed, local (SOUL) diet on the other end. This framework helps me work towards making better choices when I can, but not getting so caught up in rules and 'shoulds' that I give up entirely.

Here are a few of the basic principles and how you can apply them to your next outdoor adventure.
Focus on whole, unprocessed foods on trail. Nuts, seeds, dried fruit, and dehydrated veggies are all great choices. There are lots of ideas online and you can also check out my free Eat for Endurance ebook for more ideas.
Read labels and avoid excessive added sugar, trans fat, and additives like artificial sweeteners, high fructose corn syrup, sodium nitrate, sodium sulfate, food dyes, potassium bromate, and MSG.
The shorter the ingredient list, the better. This free Healthy Hiker Grocery Guide has some of my favorite options.
Send resupply boxes to places with limited options. Don't be stuck eating gas station food for a week because you didn't plan ahead. You'll feel gross and you'll compromise your energy and performance. Here's how I plan my resupply boxes.
Make up for micronutrient deficiencies in town by choosing fresh vegetables and salads instead of (or at least in addition to) pizza, burgers, and beer.
Make small changes. It doesn't have to be an all or nothing approach. Here are some ideas:

Add in a greens powder, such as athletic greens, amazing grass, or organifi each day.This can make up for micronutrient deficiencies on a long hike.
Swap out some candy for dried fruit. If your body is craving quick energy, eating fruit will give you a quick dose of carbs, with enough fiber to maintain blood sugar balance, and without all the added junk. And there are SO MANY options: raisins, cranberries, apricots, blueberries, mango, banana, etc.
Look for chips and other crunchy/salty snacks with as few ingredients as possible. For example, compare the following:

Ingredients in Sweet Potato Chips: sweet potatoes, organic coconut oil, sea salt.
Ingredients in Nacho Cheese Doritos: whole corn, vegetable oil (corn, soybean, and/or sunflower oil), salt, cheddar cheese (milk, cheese cultures, salt, enzymes), maltodextrin, whey, monosodium glutamate, buttermilk solids, romano cheese (part skim cow's milk, cheese cultures, salt, enzymes), whey protein concentrate, onion powder, partially hydrogenated soybean and cottonseed oil, corn flour, disodium phosphate, lactose, natural and artificial flavor, dextrose, tomato powder, spices, lactic acid, artificial color (including Yellow 6, Yellow 5, Red 40), citric acid, sugar, garlic powder, red and green bell pepper powder, sodium caseinate, disodium inosinate, disodium guanylate, nonfat milk solids, whey protein isolate, corn syrup solids.
Start slow and do what you can. As they say, the dose makes the poison. Even making a few small changes is a good step towards fueling yourself for performance and creating a better environment at the same time.

The good news? You're FREE. Absolutely free to make your own decisions. Free to choose pesticide-laden junk or free to fuel on nature's buffet of whole foods. You decide.

Related Posts:
The Dangers of Fueling on Faux Foods
Skip the Sugar Crash Trail Smoothie Recipe
How to Eat Healthy On a Thru-hike
Trail Food Makeover: How to Eat for Optimal Energy & Endurance