What to do on a snowy Colorado day (after going out to play in the snow)?
Play in the kitchen, of course!
I was craving vibrant colors, so in addition to trays upon tray of roasted veggies (meal prep for the week), and starting a new batch of purple cabbage & fennel kraut (yay fermented foods!), I whipped up these matcha energy bites.
They're a delicious snack to have on hand when you're craving a little something sweet in the afternoons, and they'll definitely treat you better than a handful of candy and a latte.  They're also easily portable, so they're great for taking on a long run, ride or hike.
The carbs are good for immediate energy and the healthy fat and protein will keep you going through your afternoon at the office or your day in the mountains. Note: Matcha is a type of green tea and does contain a small amount of caffeine, so if you're highly sensitive, avoid these in the afternoon or evening.
These bites are vegan, gluten free, and grain free. They don't require baking and they're quick to whip up with nothing but a food processor. Plus, these portable little energy bundles contain just 6 real food ingredients!
Oh, I almost forgot! The benefits of Matcha? It's packed with antioxidants to help fight inflammation, it's loaded with EGCg (a compound with cancer-fighting properties), it contains L-theanine (which enhances calm and increases focus and memory), and it supports a strong immune system, among so many other benefits!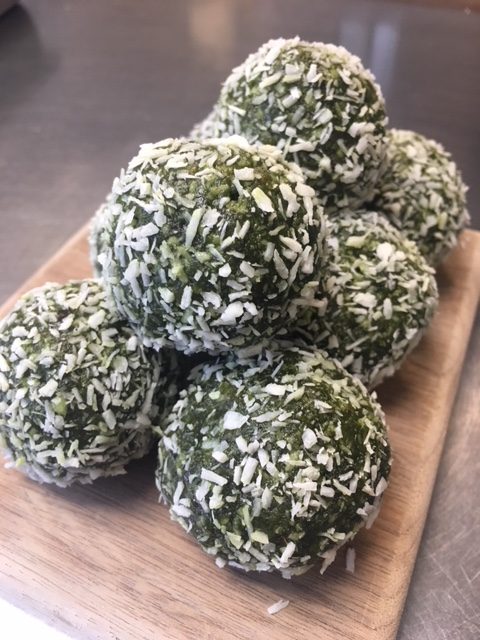 Match Energy Bites
Makes 10 bites @ 35-40 grams each
Ingredients
1.5 Tablespoons Matcha Powder
1.5 Tablespoons honey
4 Tablespoons almond flour
1 dash of cinnamon (optional)
2 Tablespoons coconut oil, melted
1 Cup coconut flakes, unsweetened, finely shredded (plus coconut to coat outsides)
110 grams Medjool dates, pitted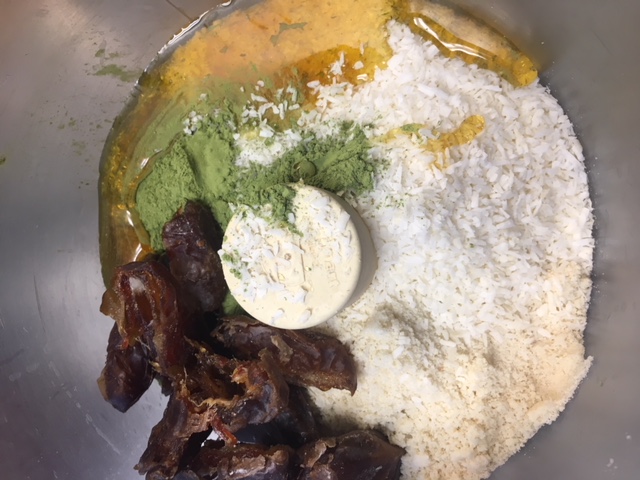 Put all ingredients, except the coconut oil and dates into the bowl of the food processor. Process the mixture for 30 seconds to a minute, until well combined. Add dates, one a time, through lid, while processor is running. While processor continues to run, pour in coconut oil through the lid. Allow mixture to blend thoroughly, 30 seconds to a minute. Remove lid and dump contents into a bowl.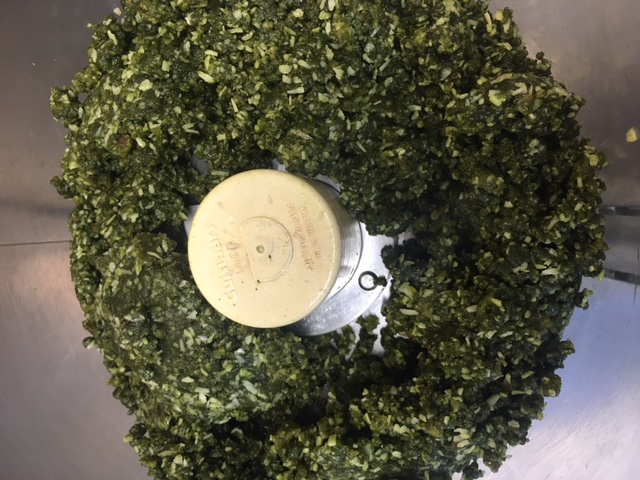 Add half a cup of coconut flakes to a separate bowl. Either with or without a scale, measure out chunks of 'dough' about the size of a golf ball, or 35-40 grams each. Roll into a ball, toss the ball in the coconut flakes to coat, and place on a napkin lined tray.
All done!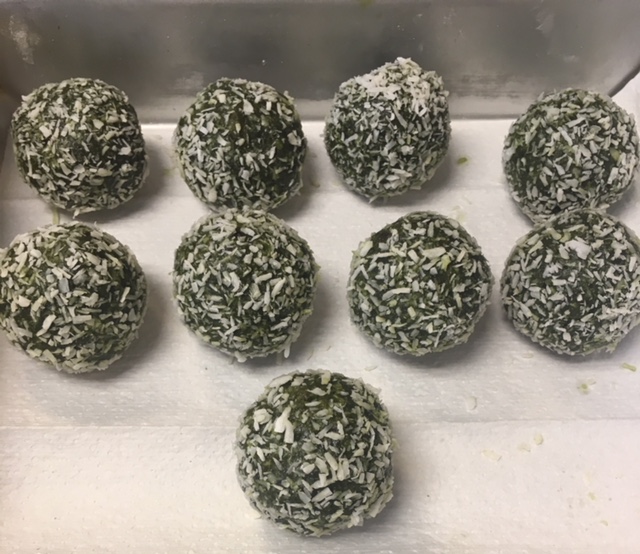 Transfer to an airtight container and store in fridge up to a week or in the freezer for longer.
Grab one the next time you head out the door and never be caught again without a healthy snack on hand!