Grain free, gluten free, dairy free, vegan backpacker's granola is quick and easy to make before a big trip.
I'm in the midst of preparing my food boxes for a 5-week backpacking trip in the Grand Canyon this fall. I bought a bunch of nuts and seeds, which I was planning to just make into a trail mix, but I decided it'd be a fun treat to turn them into granola instead. So I spent an hour this afternoon baking this tasty, healthy backpacker's granola that I'll take on the trail as a snack.
This recipe is quick and easy to make with a handful of simple ingredients, many of which you may already have on hand. At nearly 180 calories per ounce, it's calorie density meets my needs for backpacking. It's easy to pack into resupply boxes. And best of all, it makes the entire house smell amazing while it bakes.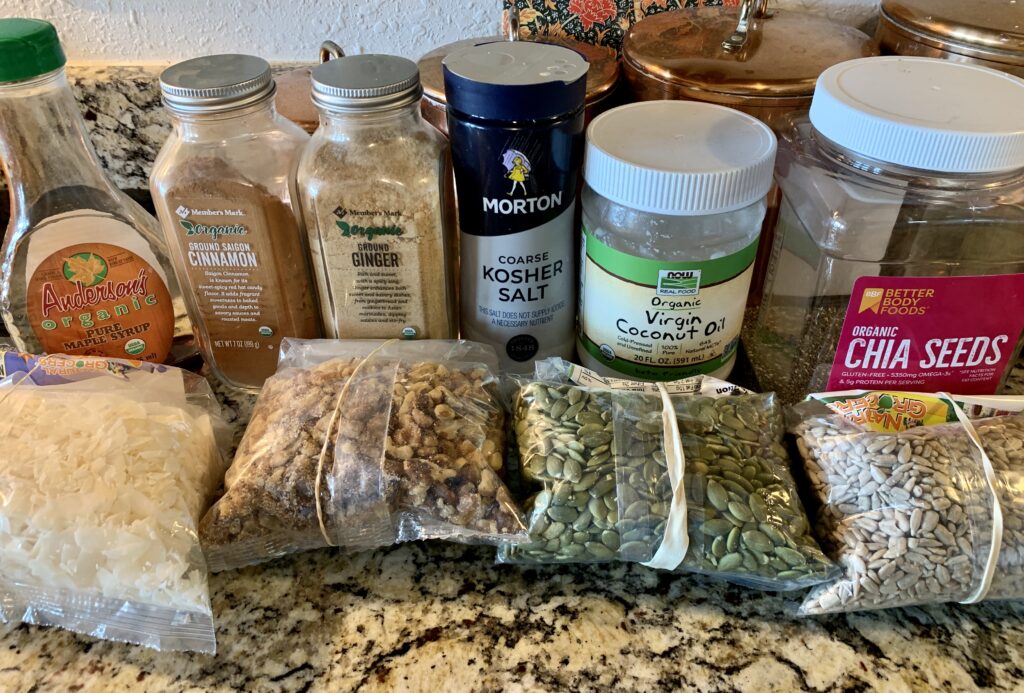 What makes this a "healthy" granola?
It's loaded with healthy fat from the nuts and coconut oil along with some easy to use energy from the carbs in the honey, and a bit of protein. It also delivers important vitamins and minerals, including potassium, iron, and zinc.
This granola is made with coconut oil, rather than the highly refined and inflammatory vegetable oils often used in commercial granola and the sweetener is honey, which is loaded with antioxidants and phytonutrients. It also contains the anti-inflammatory spices cinnamon and ginger.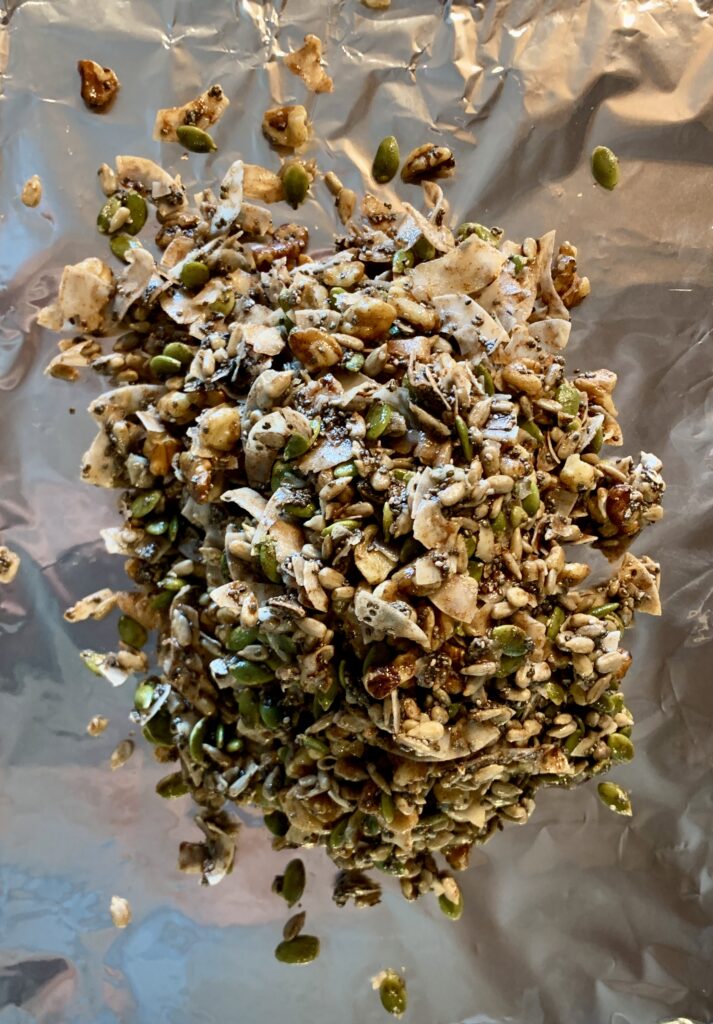 This granola not only makes a great no cook breakfast, it's a great snack any time of day. You can eat it straight out of the bag with a spoon, add coco milk or whole milk, or my personal favorite: sprinkle some in almond butter and scoop it out with a spoon – sounds weird but it's so good.
You can modify this recipe to fit your tastes and/or add variety to your resupply boxes by changing the types of nuts and seeds you use. For example, substituting in pecans, hemp hearts, etc. Just keep the overall quantities the same. You can substitute butter or ghee for the coconut oil, and syrup for the honey. You could also add in fruit, such as goji berries or dried blueberries after baking. Note that any modifications will change the nutrition facts slightly.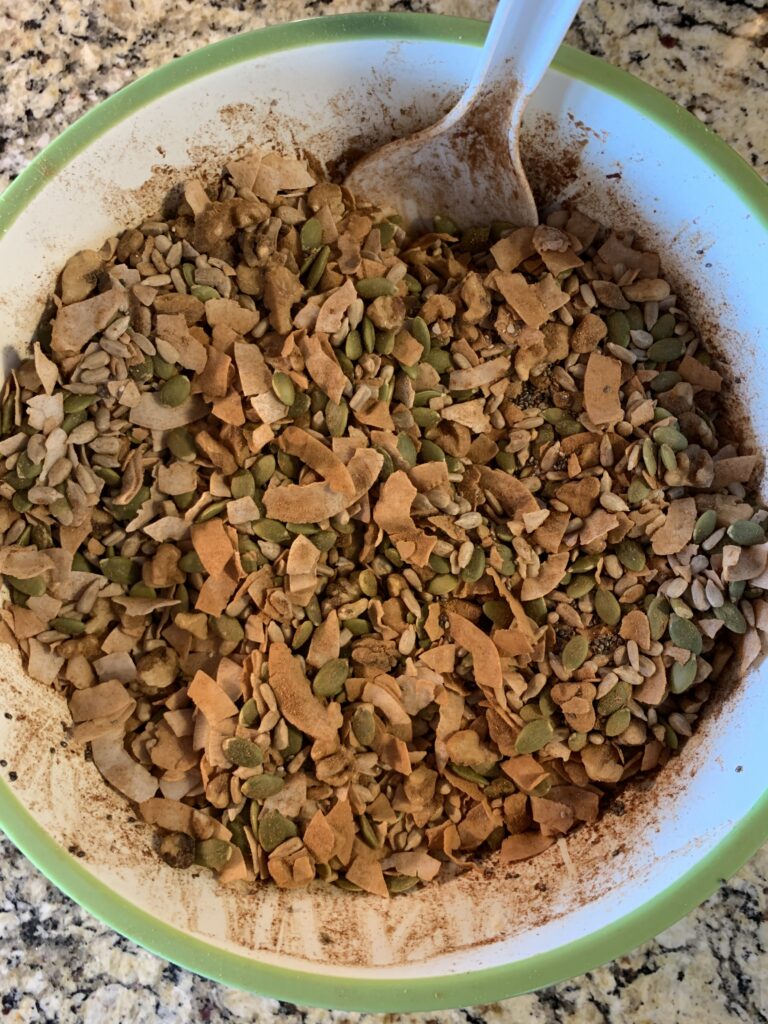 Backpacker's Granola
Makes 40oz
Ingredients
Directions
Preheat over to 300 degrees F.
In a medium mixing bowl, combine the sunflower seeds, pumpkin seeds, walnut pieces, coconut flakes, chia seeds, cinnamon, ginger, and salt. Mix thoroughly.
In a saucepan, heat the coconut oil and honey until completely melted
Pour the honey oil mixture over the dry ingredients in the bowl. Stir until all the dry ingredients are coated.
Dump the mixture onto a parchment or foil lined sheet pan.
Spread it out some the it's in one even layer.
Bake for 25 minutes or until granola is just starting to brown. It's easy to overbake so keep an eye on. Stir once or twice while baking.
Remove from over and allow to cool completely.
Storage
Store in an airtight container at room temperature. If you want it to last longer, store it in vacuum sealed pouches. Keeping pouches in the freezer may also extend the shelf life.
Backpacker's Granola Nutrition per 1 oz serving
179 calories
8.15g carb (20%)
12.7g fat (72%)
3.5g protein (8%)
3g fiber
Want to learn to make your own balanced backpacking recipes and meal plans at home so you can stop buying over-priced freeze-dried meals?