Field Notes (but mostly photos)
I have an (almost) daily habit of journaling, whether on trail or off. My journals are less of a play by play trip guide ("we hiked X miles to Y canyon, which is part of Z wilderness…"), and more of a free-flowing reflection on my inner experience. It's a way for me to process the moments, the days, the feelings that make up this bizarre experience called life.
In the fall of 2018, I hiked the Oregon Desert Trail westbound, with 2 hiking partners. See this post for an overview of the trip. The present post is mostly a photo essay to provide a visual representation of the ODT, loosely in chronological order, with a few random notes from my trail journal mixed in. I hope it gives you insight into how diverse and stunning this landscape is.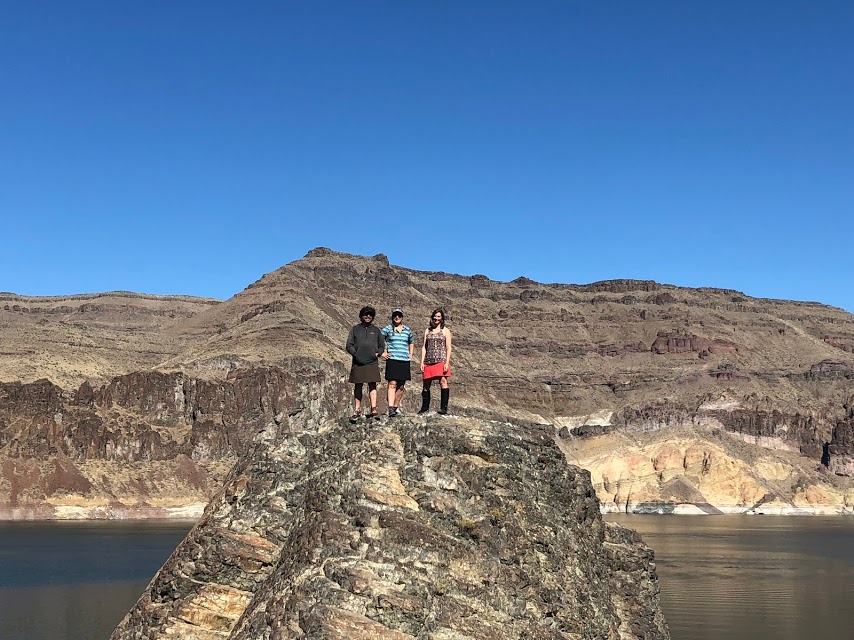 "We dropped down into the aptly named Painted Canyon. Cool early morning hiking. A million shades of rocks. Bruise purple, juniper berry blue, sage green, burnt orange, sun-baked-bone white. The canyon walls pockmarked with thousands of tiny caves.
The sunrise touched the tips of the surrounding rock as we continued down the wash, hopping and picking our way over water-smoothed rocks. ….The terrain opened up, the canyon walls become tall grassy hillsides on either side of us. Spires of rust-colored rock jutting out of yellow grass."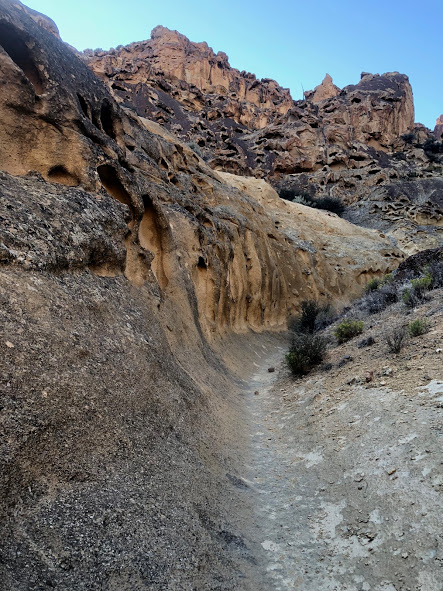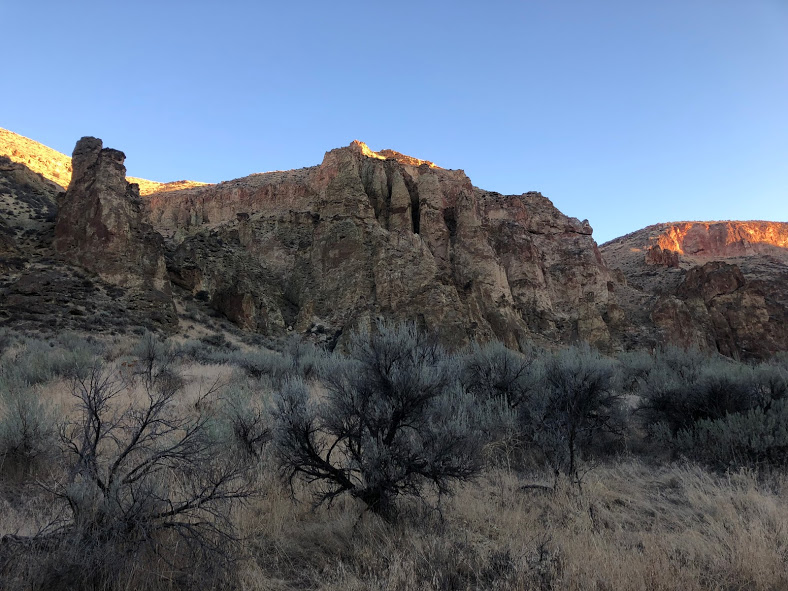 "Once the sun is up, the day becomes unbearably hot very quickly. We realize we've miscalculated our mileage to the next reliable water. We come upon a horse trough. It's full of water covered in algae. We remove the scum to unveil cool murky brown water. Grateful, we drink."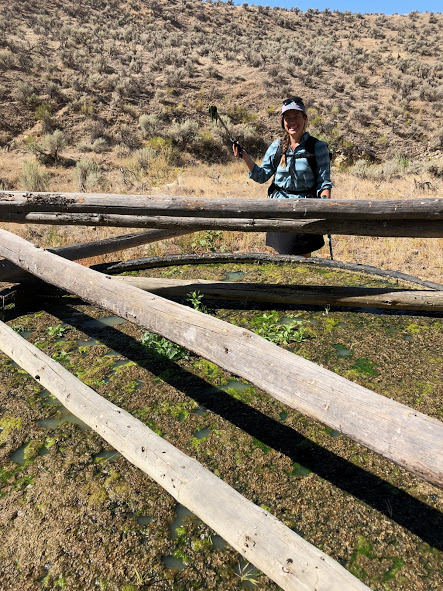 "Up one wash after another, cheatgrass filling my shoes and socks. Several carcasses and piles of bones scattered about. The remains of a desiccated snake."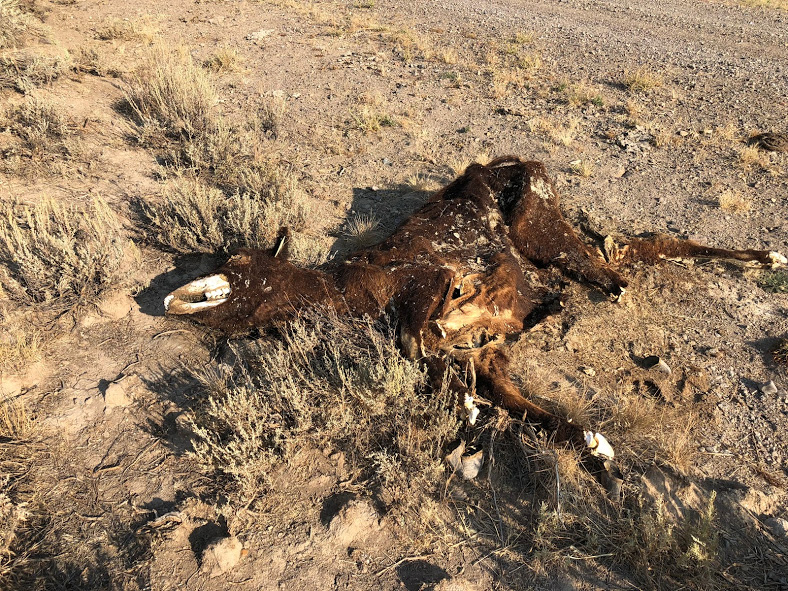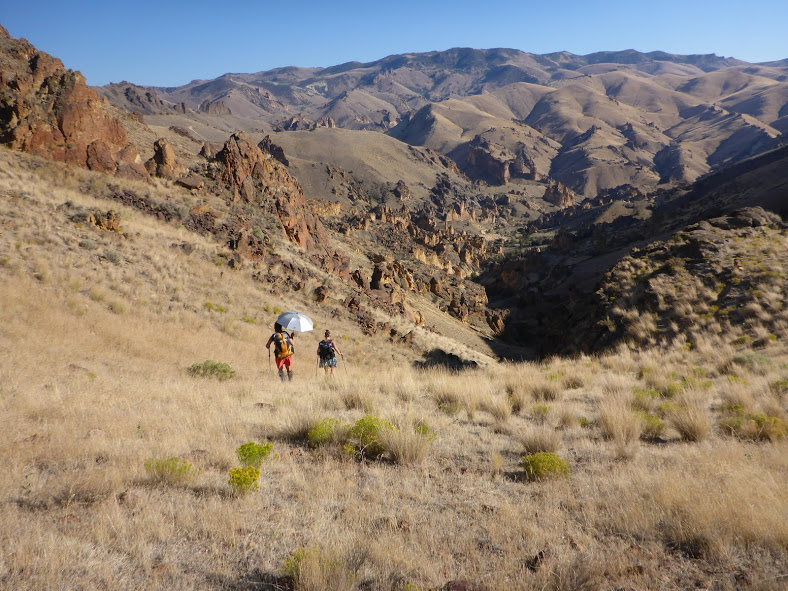 "We continue on, hiking cross country, up drainages and canyons. We round a bend, and a quarter mile in front of us, a wild horse stares back in our direction. We approach slowly. With surprising grace, it swiftly climbs the hillside and disappears behind a rock outcropping."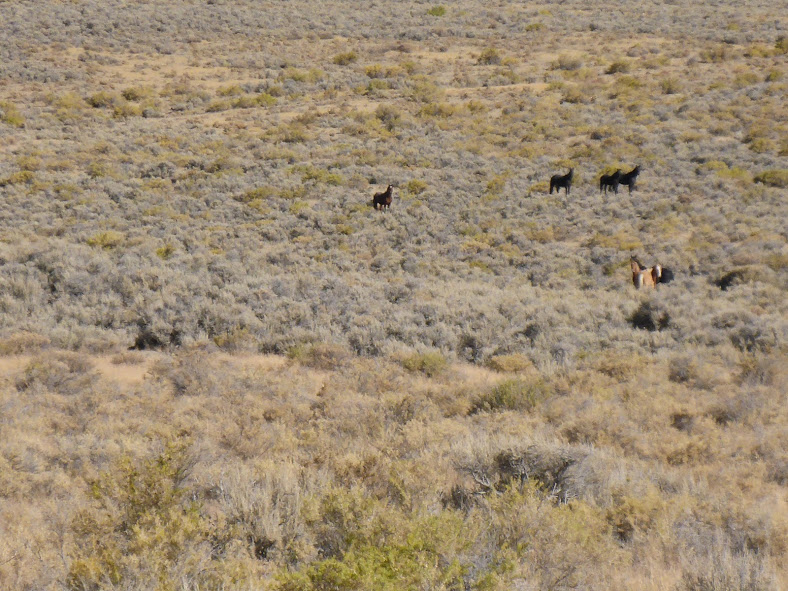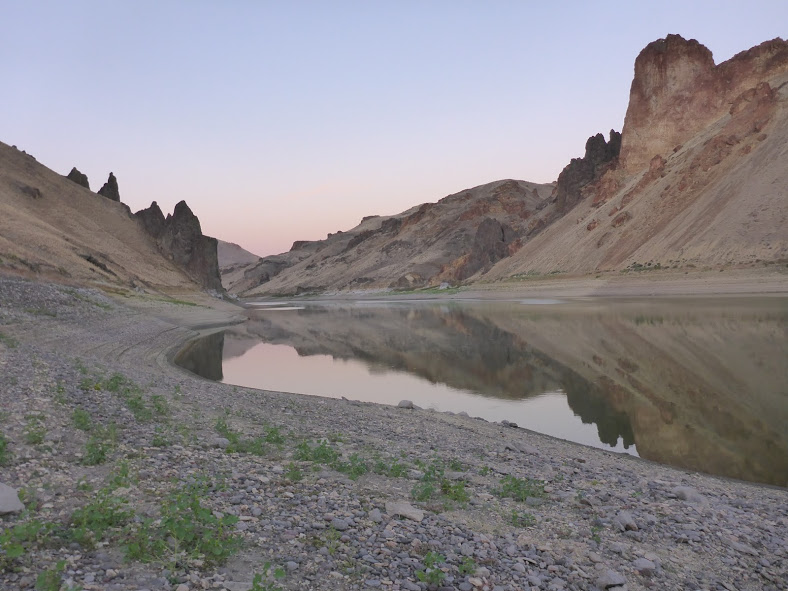 "Many people don't understand why you'd want to go on a desert hike. 'Isn't it lonely out there? Barren?'
There are mule deer and horses and lizards and snakes and hawks and coyotes and sages and thistles and wildflowers and rabbit brush and juniper and just so much life out here. How could one get lonely in the desert?"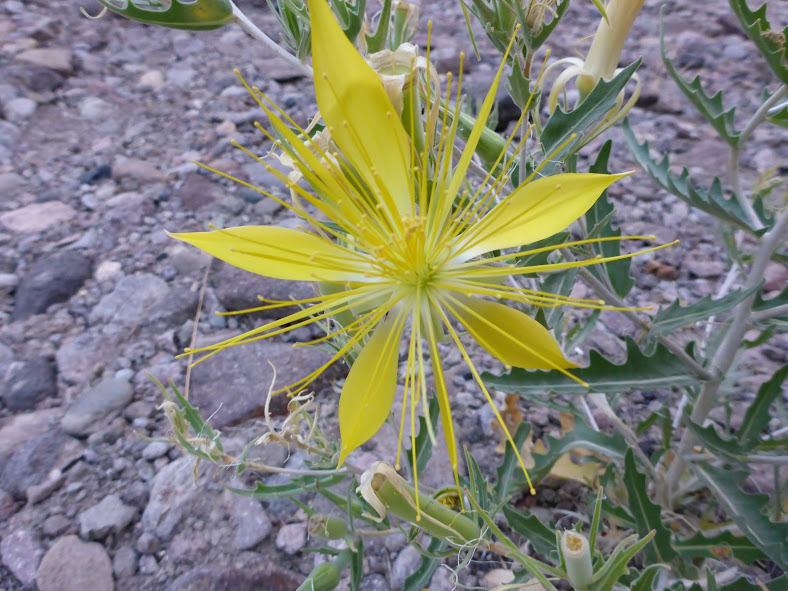 "My legs were scratched to pieces and burnt with heat rash, and my shoes and socks were filled with sharp cheatgrass, but the moment I stepped into the rushing Owyhee, all the aches melted and everything, yet again, was okay. The current was swift and I held tight to some rocks underwater. It's difficult to describe how glorious a dip in the river feels to a dust-caked, sun-soaked desert walker."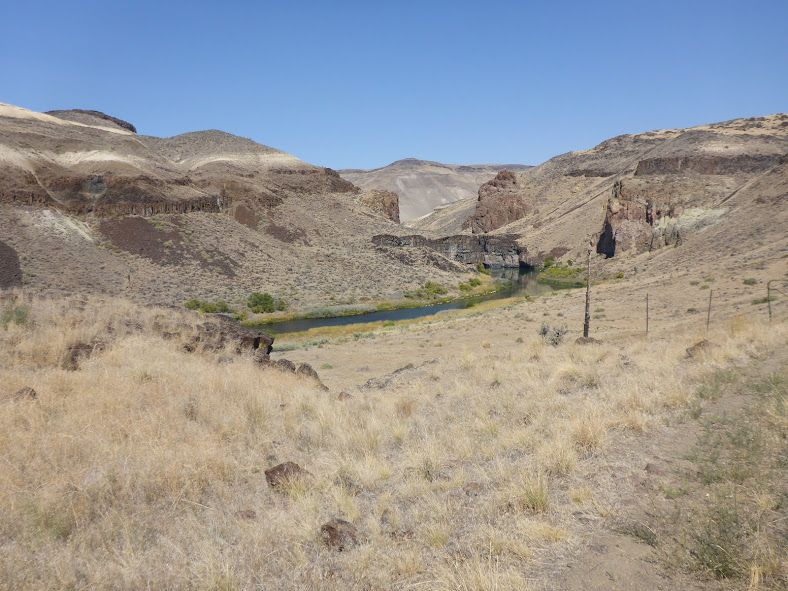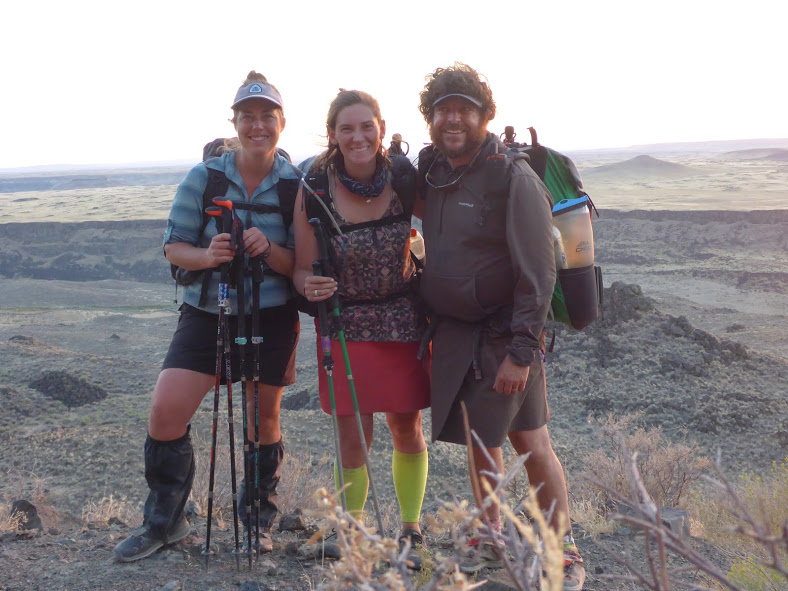 "Despite the rough day, I'm grateful to be out here. Grateful to walk. Grateful for incredible hiking partners to laugh and suffer with. Grateful for a strong body. Trail (and life) will always bring challenges. It's up to us how we perceive and handle them."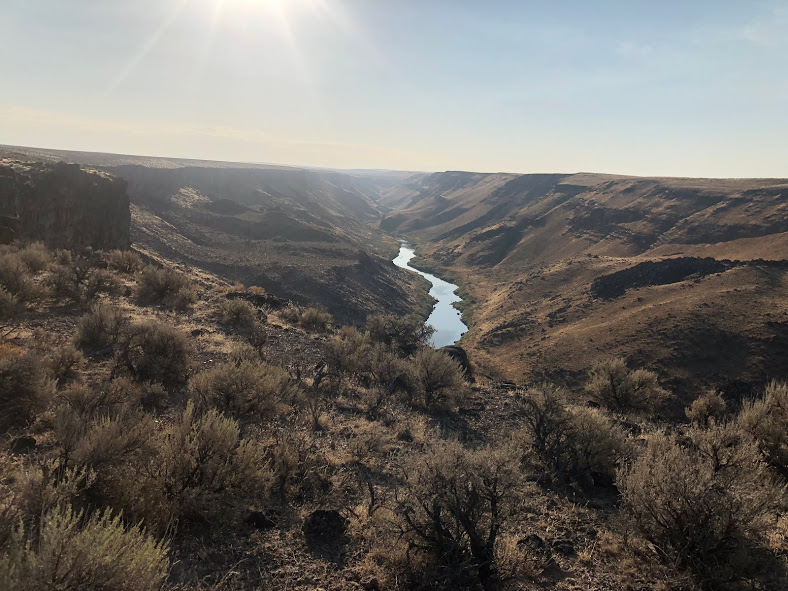 "We walked dirt roads for 8 hours today. The landscape went on forever. You reach the top of a small rise and the scene resets, road and sage on into infinity. Dust devils danced in the wind. Heat waves rose from the ground. So much space for the mind to wander.
At lunch, we create personal shade patches by propping our umbrellas on sage bushes and scrunching underneath. We kept imagining we saw shade trees in the distance, but they all turned out to be weird shaped rocks or just more sage."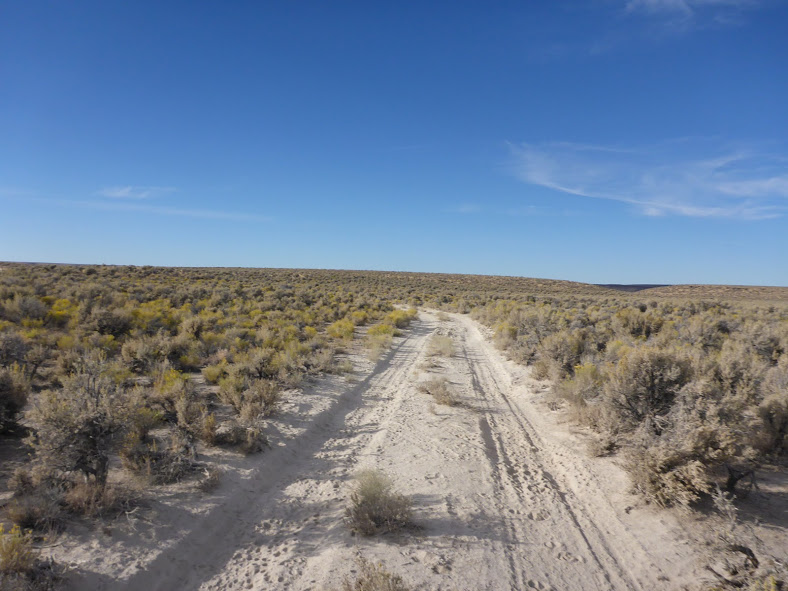 "The fine dust lent itself well to telling the desert's story. I could detect the tracks of so many different animals and invented a whole narrative in my mind. The snake, the giant millipede, the mouse, the antelope, the coyote, the jackrabbit… So many creatures have traveled here before me. People think the desert is lonely. I have to laugh. "
"Up at 4:30 and hiking by 5 under a crescent moon and starry milky way. We walk directly east into the soon-to-be rising sun. The light filters rose, purple, orange through the clouds. Walking along the canyon rim, we make good miles on old jeep roads before the sun climbs too high in sky. Jack rabbits dart from one sage bush to the next."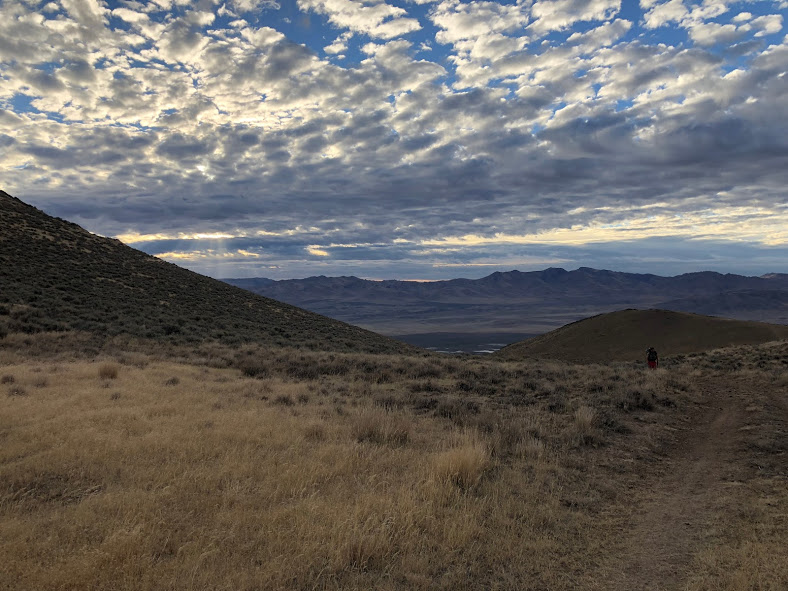 "Within a few miles, we're forced into the river to make our way forward. The walls of the canyon are rocky and steep and the small bank that comes and goes on either side is full of willows, grasses, briers, hackberry trees, sage bushes, and massive boulders. Canyon travel is difficult and we move at 1-1.5 mph.
I'm swimming towards some large red boulders on the opposite bank, determining how I'm going to get up out of the water and onto the rock. I begin to pull myself up, eye level with the top of the boulder. I look up, searching for my next hand hold  and spot a rattlesnake about 3 feet from my face. It doesn't rattle. It begins to slither away, then stops, flicks it's tongue, and coils into strike position."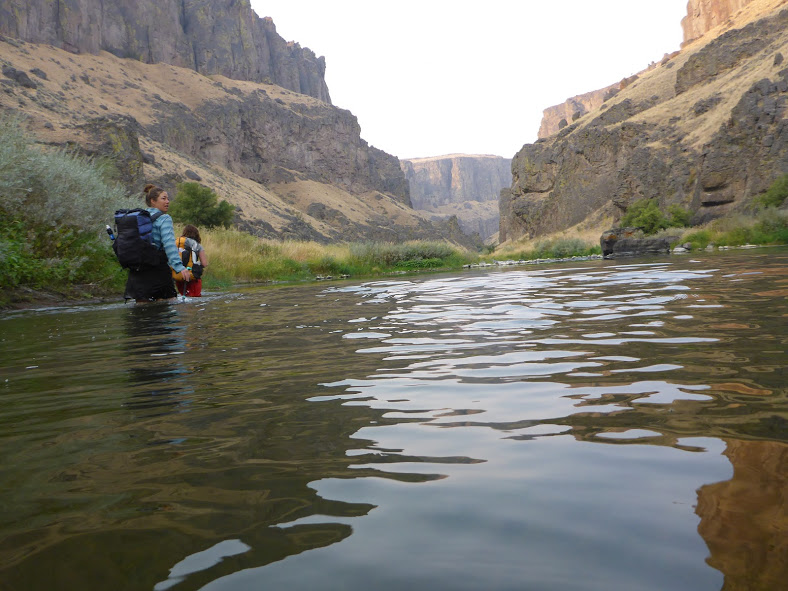 "We stop for a break at a bend in the canyon. In one of the most wild and remote regions of the country, it's unbelievably silent…. As we pack up to move on, I hear what sounds like a jet coming around the canyon wall, and swooooosh, a flock of grouse is flying directly at our heads. They head straight for us, not veering up until the last moment. We whip our heads to follow their path, and as quickly as they appeared, they had flown out of sight. "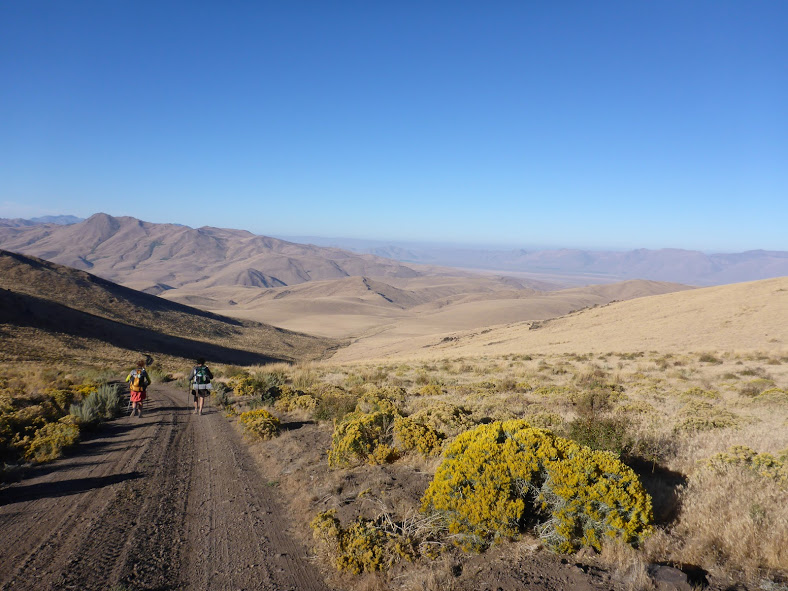 "We hike across the playa of the Alvord desert, a 12-by-7-mile dry lake bed. Mountains in every direction. Steens Mountain, which we will climb 5,000′ up and over tomorrow, is in the foreground."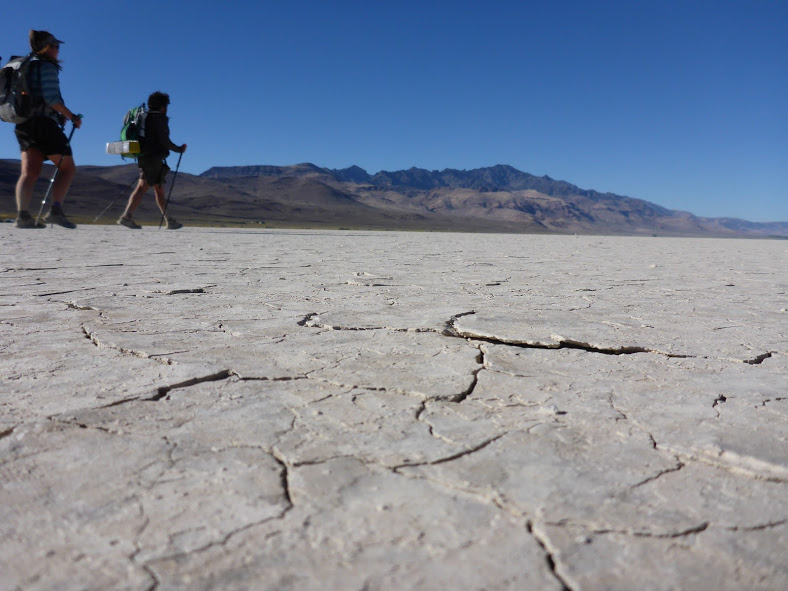 "I rolled my ankle in the Pueblos yesterday and it's throbbing now. We make it to the hot springs by dusk. We snack and soak and rinse our clothes and linger until our skin is pruny. It's glorious."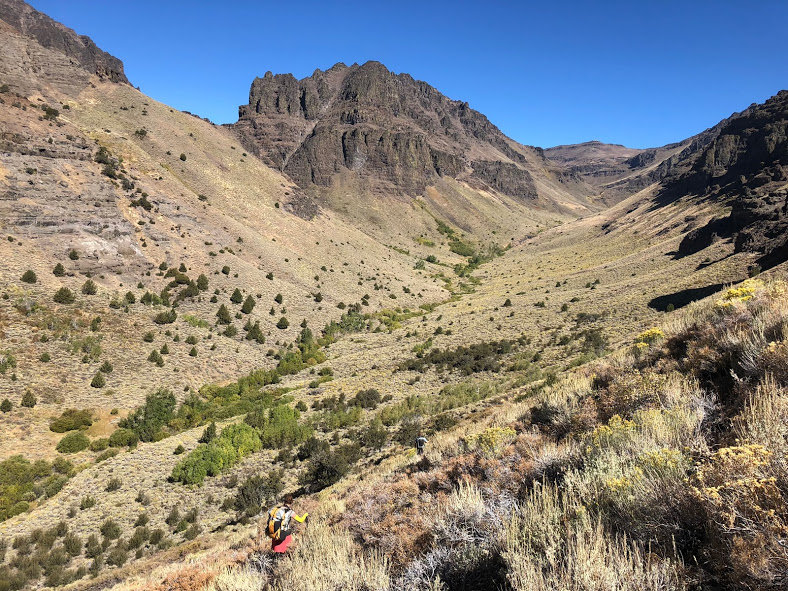 "This type of travel requires you to constantly be on; to be flexible and adaptable. You might find cow trail to follow for a few hundred yards until it peters out, or you get cliffed out, and you have to let go, and find the next path of travel until that peters out or you realize you're off your trajectory, and then you adjust again. Constantly changing your plan, experimenting, trying, failing, and not getting frustrated in the process. Good practice for navigating life."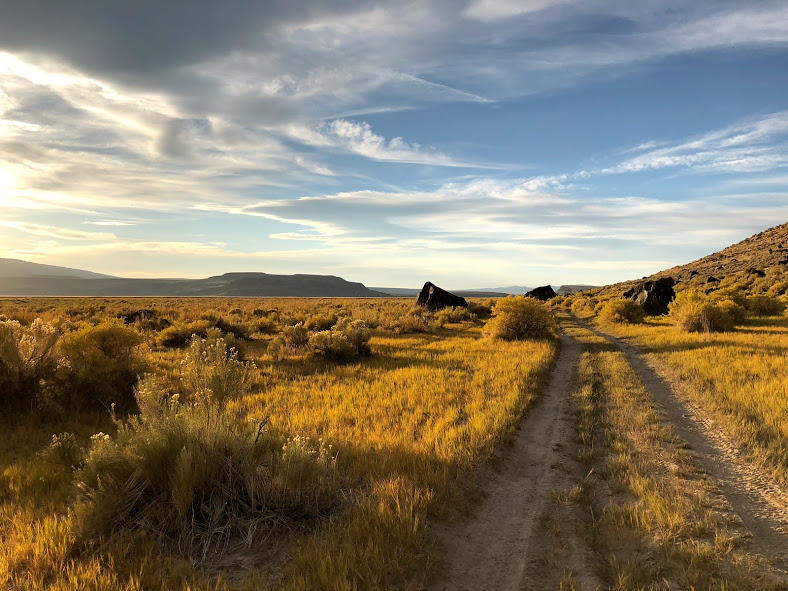 "The Hart Mountain Antelope Refuge is beautiful. Easy walking along rolling hills covered in sage brush, groves of aspen, and lone junipers. We've seen several herds of antelope. The aspens are golden-orange-yellow-bright green. I'm grateful for this taste of fall on the autumnal equinox. We descend down to Hart Lake and pass several boulders covered in petroglyphs. "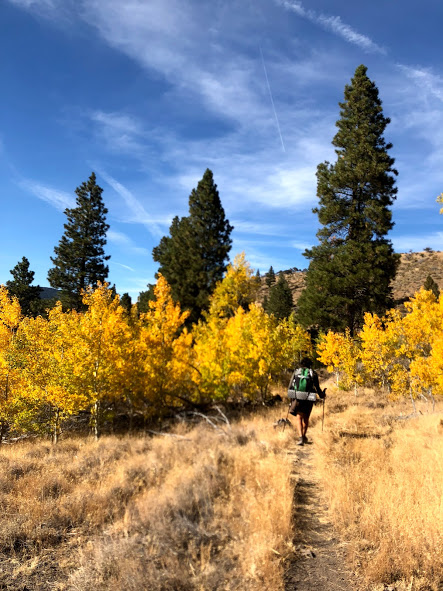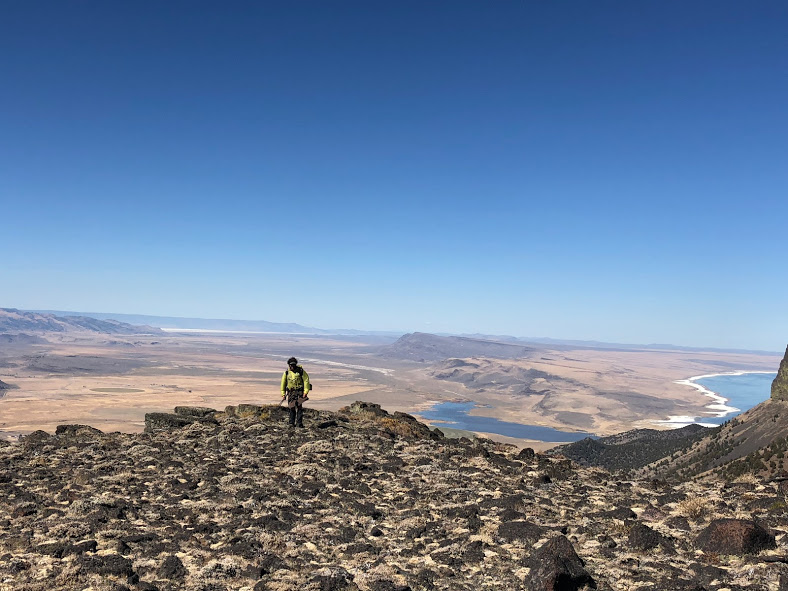 "The rocks here are diverse and beautiful. And sometimes painful. Lava rock strewn everywhere, including all throughout the fields of sage and cheatgrass we traverse. There's obsidian, opal, quartz, and many more whose names I don't know. Remnants of the region's volcanic history."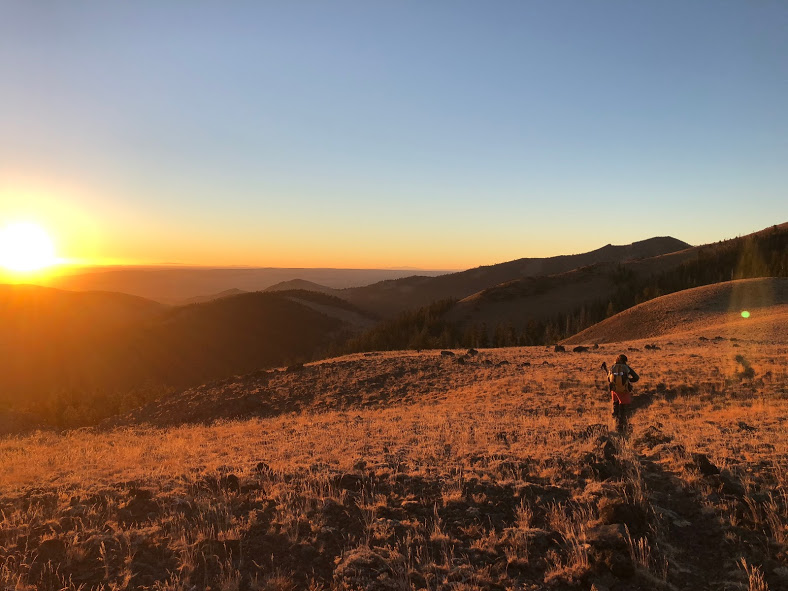 "I wake up to the sounds of coyotes howling again. This morning, the twilight is a lovely red glow as we climb up to a ridge. We're up high on single track (an ODT luxury). The nearly full moon is a big orange Harvest moon setting in the valley. We crest a mountain just as the sun rises and treats us to spectacular views of the Warner mountains in all directions."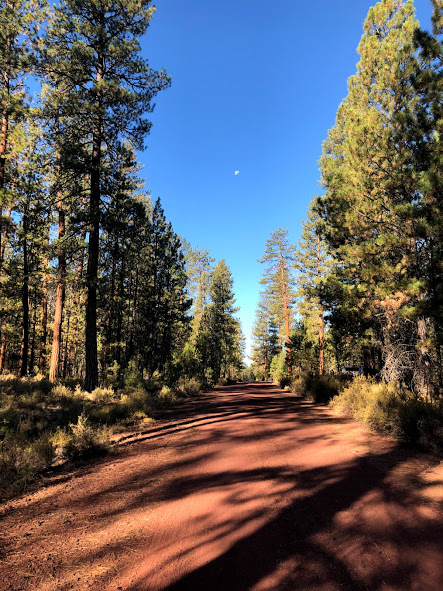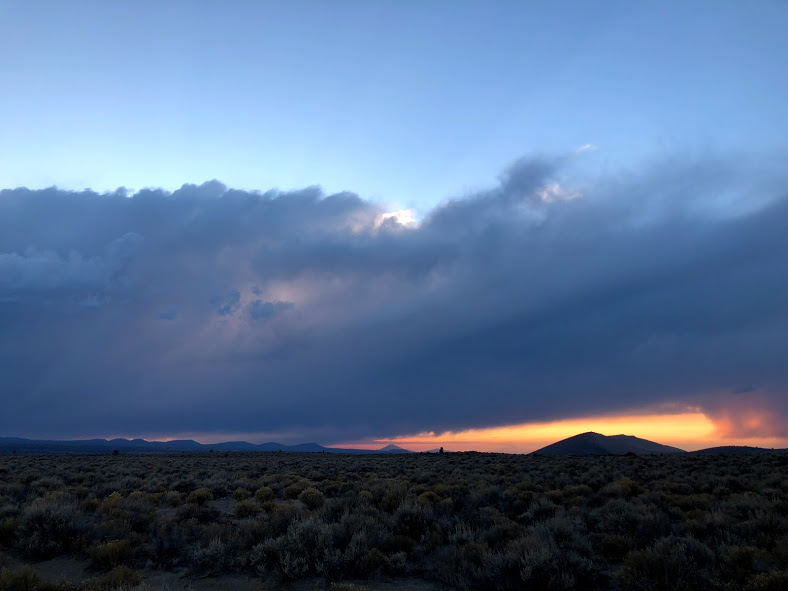 "This trail was a time warp. 30 days felt like 4 months. I didn't come with many expectations. I just wanted adventure. The diversity and beauty of this landscape has amazed me. Much more than miles of sage, this area holds true remoteness and hidden gems. We've walked 700+ miles through one of the most remote regions of the US, in one of the hottest and driest seasons on record. We didn't see a single other hiker. We laughed a lot and never passed up a chance for shenanigans. It wasn't a relaxing month-not by any stretch of the imagination. But it provided the space and freedom and challenge I needed. It slowed me down. It was a salve to my irritated soul."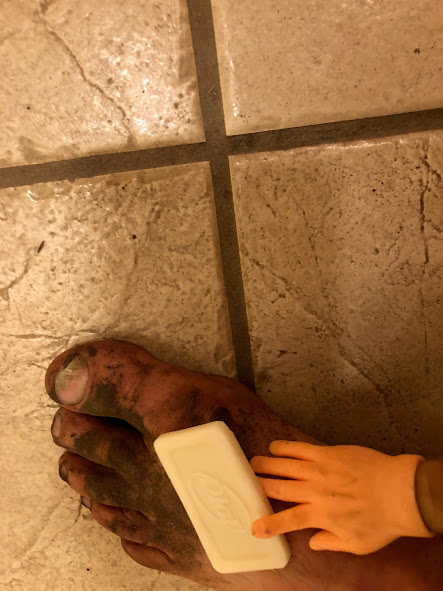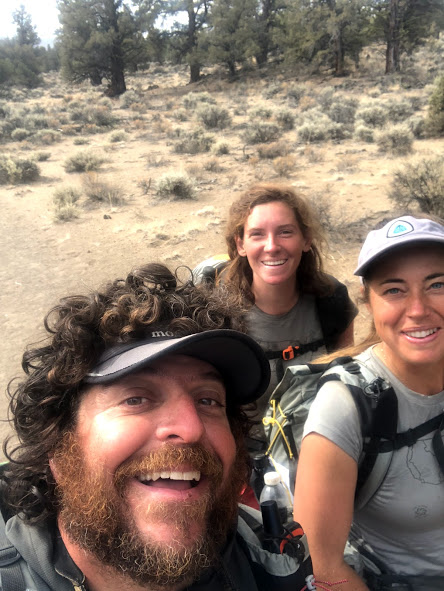 "Ahh, to walk all day. To explore the limits of the body and the mind. What a blessing."