Easy Herb Crackers
(gluten free, grain free, paleo, vegan, refined sugar free…nothing but the good stuff)
Unless you're new here, you may know that I have a strong affinity for salty, crunchy snacks. I'm always on the look-out for convenient foods that will make my body function optimally, and of course, snacks should be tasty.
Hit with a crunchy craving recently, I went rummaging through my cupboard and nary was a salty snack to be found. Not feeling like going to the store, it was time to get creative, and thus these Herb Crackers were born. They're gluten free, grain free, vegan, contain no refined sugar, and are made up of few simple ingredients. They're also ridiculously simple and result in a house filled with savory scents while they bake.
I've had a couple bags of tapioca flour in my freezer that a friend gifted me while I was on the Autoimmune Paleo diet as part of a protocol to heal my adrenal fatigue and hashimoto's thyroiditis. Prior to these crackers, I hadn't baked with tapioca flour, so I'd put off using it for over a year. Today was the day.
I searched online to generate ideas and inspiration for the basic cracker process and to see if there was anything special to know about baking with tapioca flour. Tapioca flour is the starch extracted from the cassava root, while cassava flour is the whole root. Generally, tapioca is well-tolerated and avoids causing an immune response, as happens with many other grains. Plus, it's fairly neutral and lends itself well to taking on any flavor you want. However, it's still a starch and will therefore raise insulin, so eat in moderation and pair these crackers with a fat and a protein.
These crackers are quick and easy to make, even if you're not an experienced baker and  have never worked with alternative flours. They only have a handful of ingredients, most of which you likely already have. The tapioca flour could be swapped out for other fours like cassava, almond, or coconut.
In addition to making your house smell glorious, and being able to tailor the herbs to your personal preferences, another benefit of homemade crackers is that you don't get the myriad of preservatives, food coloring, and additives that are often found in commercial baked goods. That alone makes it worth the little bit of effort it takes to whip up these savory little crunchies.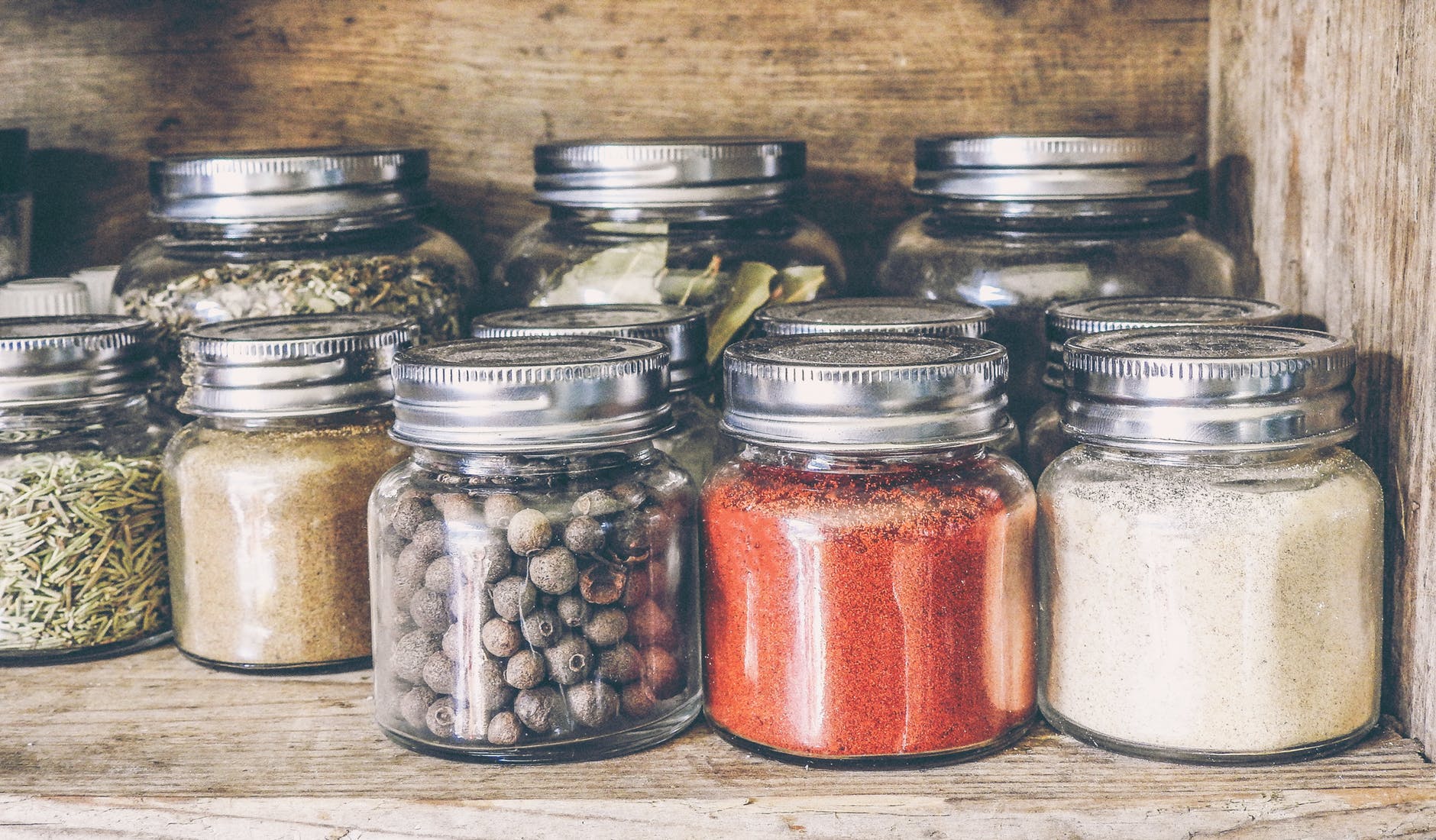 Easy Herb Crackers (grain free, gluten free, vegan)
Prep Time: 10 minutes
Cook Time:  55-60 minutes
Ingredients:
1½ cups tapioca flour
½ cup coconut flour

½ teaspoon

Himalayan salt

½ teaspoon

garlic powder

½ teaspoon ground fennel seed

½ teaspoon celery seed

2 teaspoon basil

2 teaspoon oregano

1 teaspoon tomato powder

½ teaspoon baking powder

6 tablespoons extra virgin olive oil

8 tablespoons filtered water
Preparation:
Preheat oven to 300 degrees. Combine the dries in a mixing bowl. Feel free to use the combination of spices listed above, or create your own concoction. This is just what I had on hand. Add in olive oil and water. Combine thoroughly.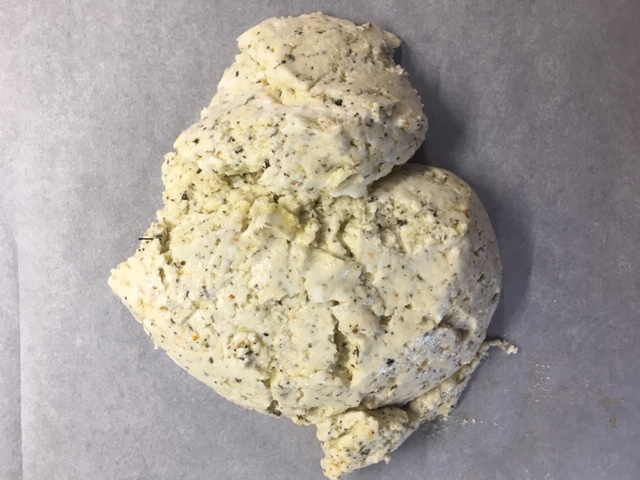 Dough should be a somewhat sticky consistency, but it will stick together in a lump. It won't be overly loose nor will it be so dry that it doesn't stick together. You should be able to hold it without it falling through your fingers. Add more flour and/or liquid to adjust consistency as necessary.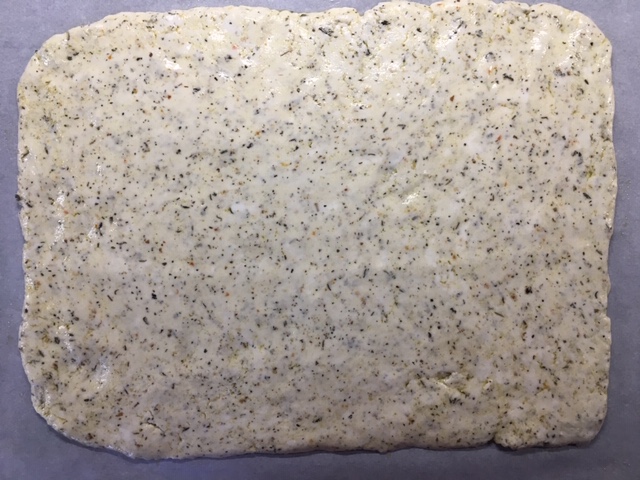 Dump the dough onto a piece of parchment, flatten it into a rough rectangle with your hands, and place another piece of parchment over it. Smooth dough and press into an even 1/4″ rectangle(ish) with a rolling pin. Remove the top piece of parchment and pull the bottom piece onto a baking sheet.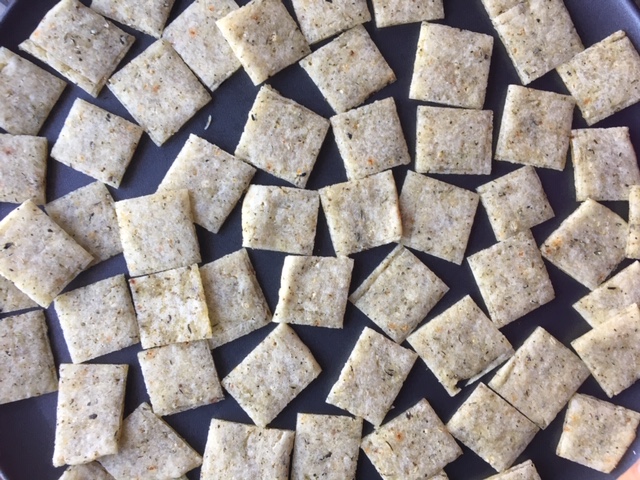 Bake at 300 degrees for 30 minutes. Remove from oven and use a pizza wheel or knife to cut the dough into roughly 1 inch squares. Return squares to baking sheet with some space in between each. Bake another 25-30 minutes until golden brown and lightly crisp.
Cool completely and store in airtight containers. Enjoy with soup, nut butter, hummus, cheese or cured meat. 
Enjoy this recipe? Comment below and click here to be added to our newsletter to be the first to know when new posts come out!