Scones! I used to make them every day as part of my job as a pastry chef, but it's now been ages since I whipped up a batch. Probably because I'm not a huge sweets person. However, a scone-loving friend of mine recently had a birthday, so I decided to make a quick batch. After all, it's always relaxing to spend time in the kitchen working with you hands (and to make treats for others!).
As always, my objective is to make healthy (or at least healthier) AND tasty baked goods. My old scone recipe wouldn't do, so I went in search of new ideas.
The recipe I ended up using is based off of this one, with several modifications based on my preferences plus what I had on hand.
Ginger and cinnamon is a classic combination, anytime of year. These scones turned out buttery and delicious, with just a hint of sweetness. This is how a scone ought to be in my opinion 🙂
They were just a bit crumbly and could've used a little more of a 'binder' like arrowroot. Preparing them in a food processor makes them super quick to whip up, even on a busy weekday morning. Plus, the ginger and cinnamon are anti-inflammatory-bonus!
Cinnamon Ginger Scones
Yield 8 scones
Prep Time 10 minutes
Cook Time 12 minutes
Ingredients
1 cup oat flour
1/4 cup potato starch (could also use arrowroot powder or tapioca starch)
1 teaspoon cinnamon, plus more for sprinkling on top
1/4 teaspoon baking soda
1/4 teaspoon salt
1 ounce fresh ginger root, peeled, chopped into chunks
8 tablespoons grass-fed cold butter
2 large eggs
2 tablespoons molasses
turbinado sugar for sprinkling on top, optional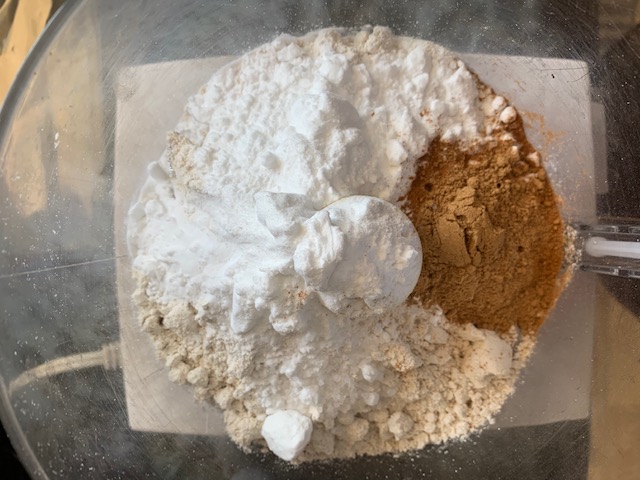 Instructions
Preheat the oven to 400ºF and line a baking sheet with parchment paper.
Combine the oat flour, potato starch, cinnamon, baking soda, salt, and ginger in the food processor. Turn it on and process for about 30 seconds, until the ginger is minced and incorporated into the mixture.
Add the butter and pulse for 10-15 seconds, so the mixture is the texture of coarse crumbs.
In a medium bowl, whisk the eggs and molasses. Add the contents of the food processor to the bowl and mix until just incorporated.
To shape the scones: Flour your hands. Using a large cookie scoop or spoon, drop the dough into balls into the palm of your hand and gently press it into a flat ball.
Sprinkle with turbinado sugar and/or cinnamon, if desired.
Bake for 12-15 minutes, or until baked through and golden brown.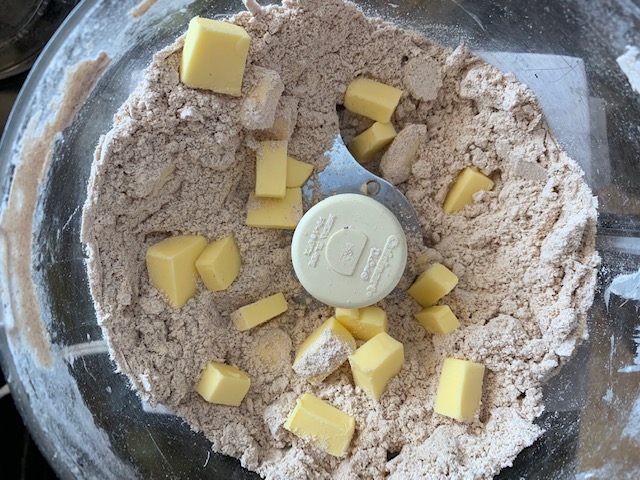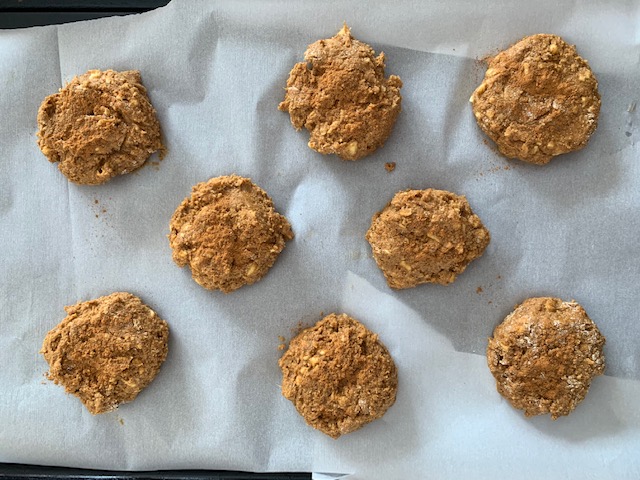 Simple, easy, delicious. Eat them plain or split in half and schmeared with a little almond butter. Enjoy!

Enjoy recipes like this? Click here to be the first to know when new posts are published!